Coworking booking Software: Basics and Perspectives

According to the statistics, there were 15,500 coworking spaces in operation worldwide in 2017, while in 2005 there were just 3 locations of such kind. By 2020 the number of coworking members is going to rise to 3.8 million, which is 40% of the total workforce represented by freelancers, solopreneurs, independent contractors and temps. In 2022 — 50% of large businesses will have some form of a shared office.
The tendency to cowork has been gathering momentum high-speed. That's why coworking booking software is a new and promising growth area in mobile apps development.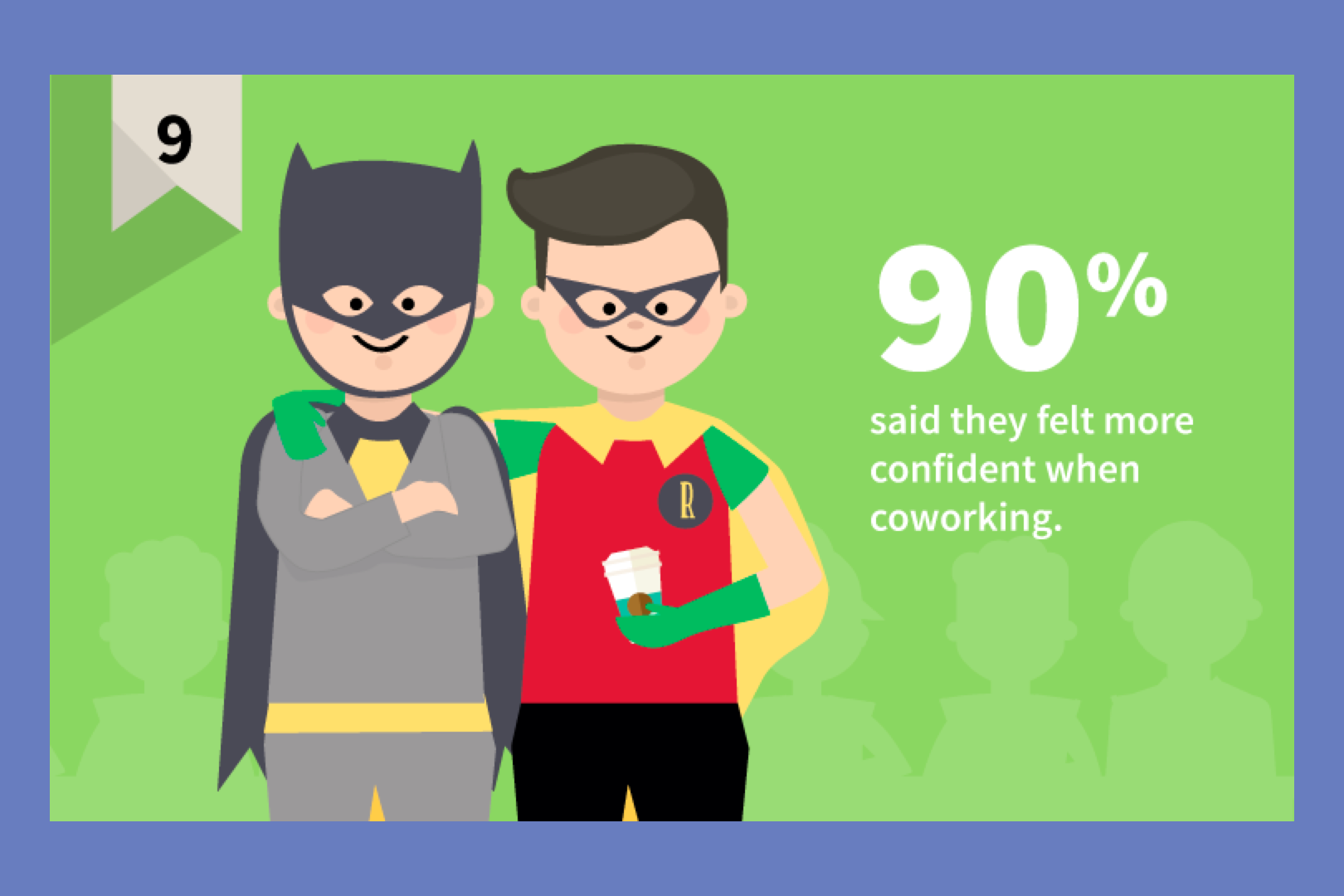 Let's find out some important aspects of the applications' development in the sphere of coworking spaces, meeting and conference rooms booking.
Who can be interested in coworking booking software development?
In the first turn, it's essential to everybody starting a coworking space business, third-party companies or startups servicing such spaces, and the communities actively using such working facilities. The software solutions are able to save the coworking business owners as well as their clients from the chaos of multiple spreadsheets and papers by means of the web-based procedures of booking, administration, contract signing, and payments.
What are the major features of the workspace management software nowadays?
We have analyzed a number of products, which have proved to be the best coworking software solutions and the leaders of the sphere today (Nexudus, Cobot, Optix) and have to admit there are certain aspects of the software solutions, which should be taken into consideration by those who are going to delve into the development of such soft.
1. Personal User Account
Firstly, your product should be mobile and easy to access any time from any place, so developing an app for your users take care of their personal account, simple registration, and authorization. The most popular method of authorization today can by right be considered the one via social media accounts, so think of such a possibility for your clients. You can also create a customizable web-based signup form, which will help you collect all required information about the user and allow the latter to sign in hassle-free and set the necessary add-ons for his or her activity.
2. Booking Calendar
Any booking software needs calendar integration and here you can consider either Google Calendar integration or developing your own calendar, which can be synchronized with the users' GCalendars. It will help your users stay connected and up-to-date, but it's also essential to stay in balance between the in-depth functionality and intuitive user experience.
3. Booking Options
For the convenience of your community members make booking and availability checking possible online in real-time via your space or conference room management software. As an admin you can provide permission for booking to only certain members, cancel reservations, adjust rates, or set flexible pricing based on room or place type, time, duration of booking and user membership status. The users of your coworking space management software in their turn should be able to create (request) and cancel their reservation in a self-service manner.
4. Communication
You need to communicate with your team, your users, and they also need to communicate with each other at times, so integrate some communication features to your app, it can actually be e-mails, messages, and notifications combined. At this point you can consider automating the booking rules and conditions of your spaces, as well as invitational and notifying e-mails and messages. Create sample proposals and let your clients sign them online. Customize the tricky, time-consuming parts of your admin work and save much time for what you do enjoy.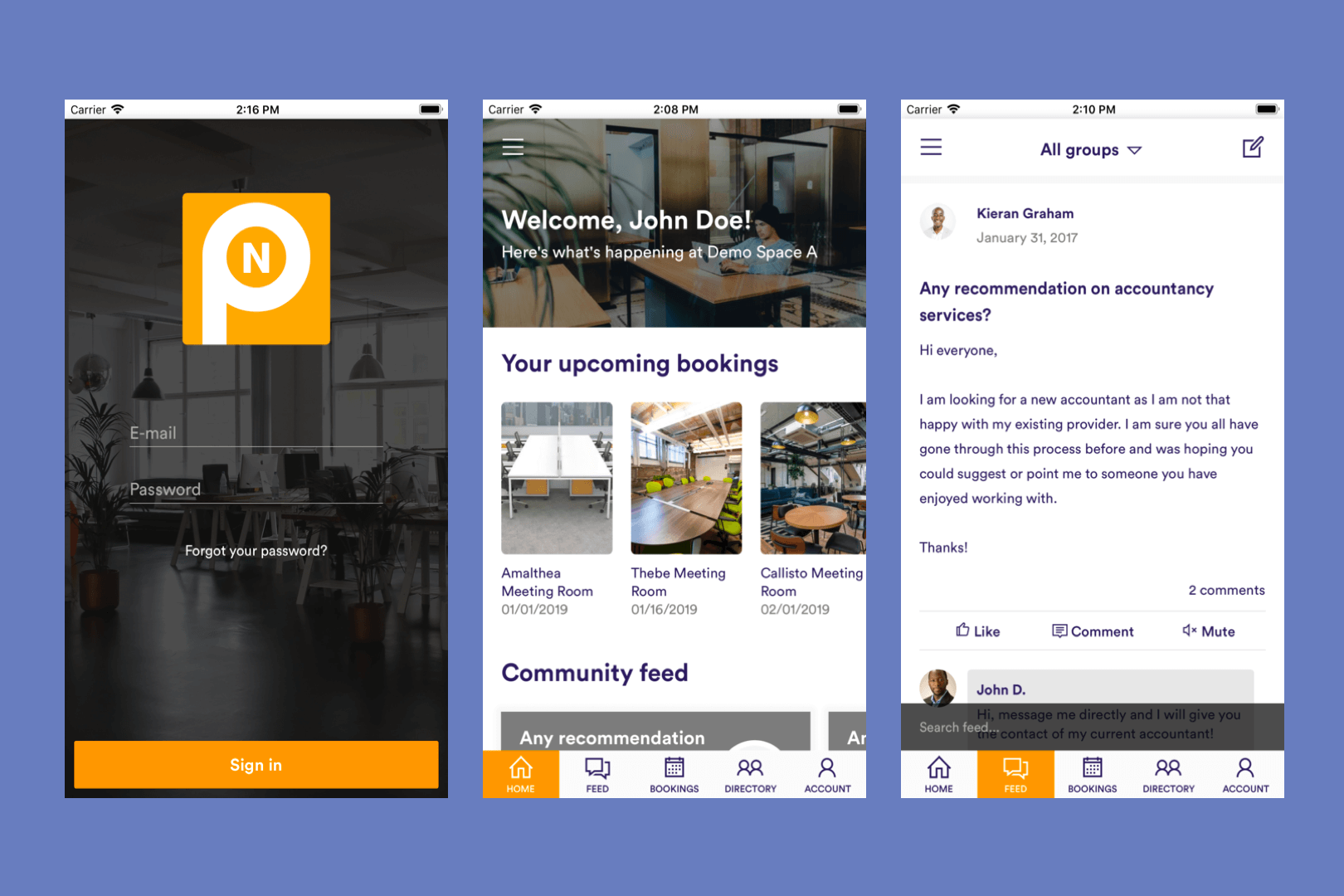 5. Payment Systems Integration and Automation
Provide your coworking software users with the opportunity of making instant online payments through integrating credit cards, e-wallets, google and apple pay options along with the others. The more payment methods are integrated into your app the fewer troubles your users face. You can also introduce payments for an invoice or set up auto-payments for your clients' convenience.
6. Check-in and Access control
Modern technology allows integrating a network with software solutions, so that the members can automatically check in and out, as well as manage Internet access. It can either be done automatically via logging in into account, with a fingertip or through the special access codes issued by admin. In a similar way, the access to your coworking facilities can be granted, meaning wi-fi, printing, event management, whatever.
7. Additional features
Make your cowokers feel at home, allow them to have all the necessary tools integrated into your coworking or meeting room software. The most popular contemporary integrations include Google Calendar, Mailchimp, Slack, Quickbooks, Kisi, it's even possible to create your own custom integrations, but it's the matter of necessity, your wish, and definitely price.
8. CRM
CRM is an inevitable part of the software solution of such kind and you need it for multiple reasons. Firstly, it helps you to store your data securely, easily access and manage it. You can keep track of your coworking team, members and guests, events and reservations. Being able to receive analytical data on all key drivers of your business, you can take reasonable data-driven decisions, which may help you optimize your coworking space, or spaces and boost your business.
It's not a mistake, a good coworking and meeting room booking app is able to service several spaces of such kind and you can order a custom solution to meet your special needs and your coworking facility specifics. Our team is experienced in custom CRM creation as well as the acknowledged leader of mobile development. In case you want to take up building a custom coworking or meeting room booking system, just ask us for help.
Conclusion
It's vital to keep in mind, that a perfect coworking management solution is not only focused on management tasks but on the needs of community members as well as admins. Thus, you often have to meet the diverse requirements of freethinkers with a complex set of prerequisites and only experienced developer team is able to bring the solution to life. Show your members that you prioritize their needs with a custom coworking space software and app and you will definitely beat your competitors.