How to create an apartment rental service like Airbnb

Airbnb has changed the way people tend to search for accommodations all over the world. This startup has conquered a global market of the apartment rental, though it does not mean that Airbnb like services cannot cut at least a small piece of this pie in frames of a local business. How to make a website or app for renting apartments?
Apartment rental costs are quite high that is why many travelers look for cheap offers in order to spend as little money as possible on accommodation. According to New York Times, an average monthly rent in Manhattan cost $3,405 in the third quarter of 2016. Entrepreneurs have realized that they can make a profit by creating services like Airbnb even without owning real estate assets.
Booking services like Airbnb:
Roomorama;
Flipkey;
SellMyTimeshareNow;
HomeAway;
Booking.com;
OneFineStay;
HomeStay;
Trivago.
However, such services can have some issues with functioning in particular countries. On February 6, 2017, Singapore parliament passed a law that prohibits a short-term rental. If a property owner does not have a special permission from the Urban Redevelopment Authority, he or she cannot rent out rooms or apartments for less than six months. Therefore, entrepreneurs have to take such nuances into account before developing a room rental app or website. Furthermore, an apartment rental service must enhance the functionality of ordinary classified ads sites to become successful.
Learn about Other successful online marketplaces.
How Websites and Apps Like Airbnb Differ from Other Apartment Rental Solutions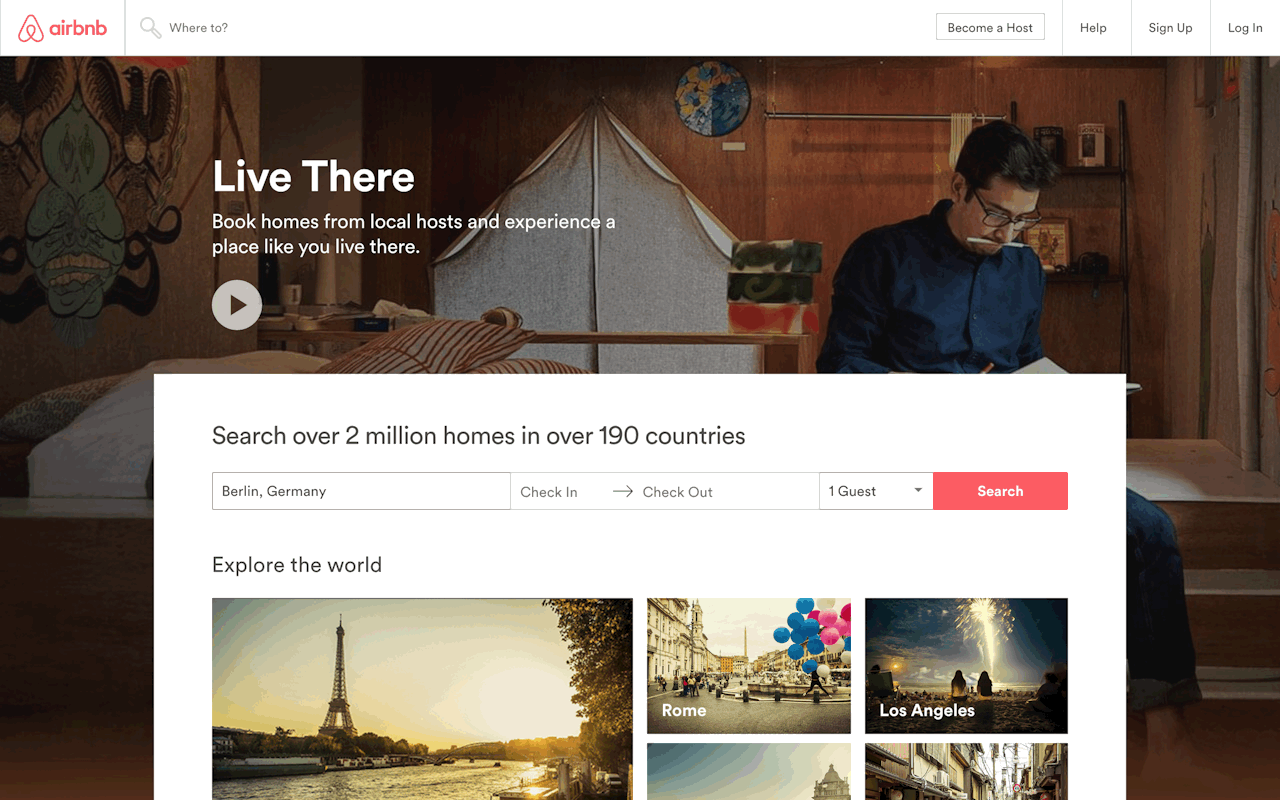 Classified ads websites are the common alternatives for Airbnb like solutions. They are online platforms where property owners post their offers for a specific fee or even for free. Customers visit such sites and choose a needed category: a car sale, apartment rent, services, etc. Then they find an advertiser's email or phone number and contact that person. Classified ads websites contain many different categories and they are actually multi-purpose platforms. Services like Airbnb have the another working principle and business model.
P2P Marketplace
An apartment rental app or website is a peer-to-peer online marketplace that is focused solely on the specific type of service and connects property owners (mostly individuals) who rent out their real estate and customers who have the need for finding an accommodation for a specific term. Similar marketplaces may focus on another type of services: car rent, appliance or tool rent, etc.
Geolocation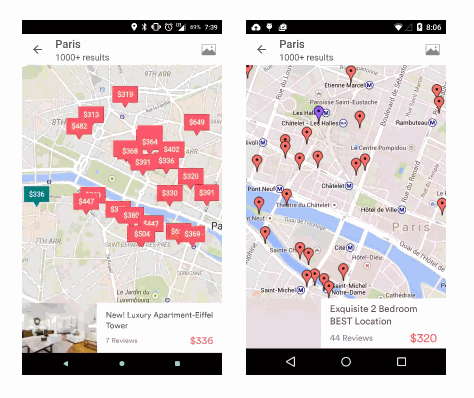 The main difference between classified ads sites like Craigslist is that they provide users with information, but Airbnb like services help customers solve their problem. In the first case, users have to find a convenient offer and only make a choice in the second one. That is why geolocation plays a crucial role in apartment rental apps or sites like Airbnb. Customers often need to be physically near a place which is for rent. Being in another country, tourists can easily and fast find an accommodation that is geographically close to them.They have a problem: to find a cheap apartment within a couple of quarters as fast as possible. Such marketplaces provide users with a solution by allowing them to find a place by location and showing a search result on a digital map.
Online Payments
Another difference and advantage of such marketplaces is that they allow making a payment online without leaving a reservation room app or website. This feature is convenient for renters and it protects property owners by ensuring the transaction security. Furthermore, online payments let a marketplace owner charge a service fee and build an effective business model.
Reviews
Classified ads sites are not responsible for a deal between customers and those who rent out the belongings. Therefore, renters entrust their money to the person they know nothing about. On websites like Airbnb, customers can leave reviews about the property owner whose apartment they have rented. These reviews form a host profile and its rating that will influence further deals. The higher rating is, the more customers trust this specific host.
Why It Is Important to Make a Room App for an Airbnb Like Service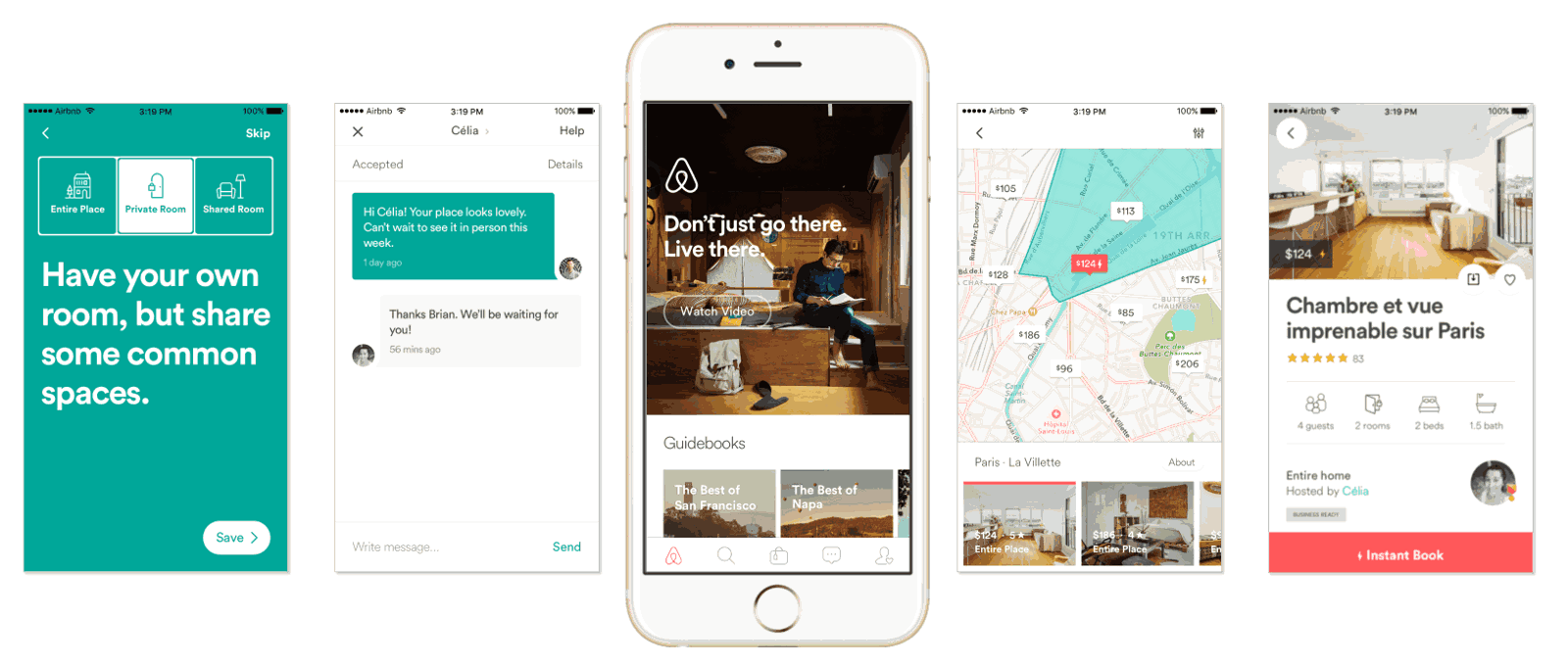 Many business owners create a mobile application besides the main website they already have (e.g. Facebook and Twitter). Others focus on a mobile app and a website is a supplementary tool (e.g. Shazam, Uber, and Instagram). E-commerce business owners develop an app to increase sales. Why did Airbnb founders Joe Gebbia, Brian Chesky and Nathan Blecharczyk design a room app for their service?
Personalization
The development team has managed to make each user feel like the app is created specifically for him or her. Trips are the sweet memories that warm human hearts during the whole year till the next journey. That is why it is so important for rental apps for Android and iOS to provide users with the best experience through a personalized and intuitive UI.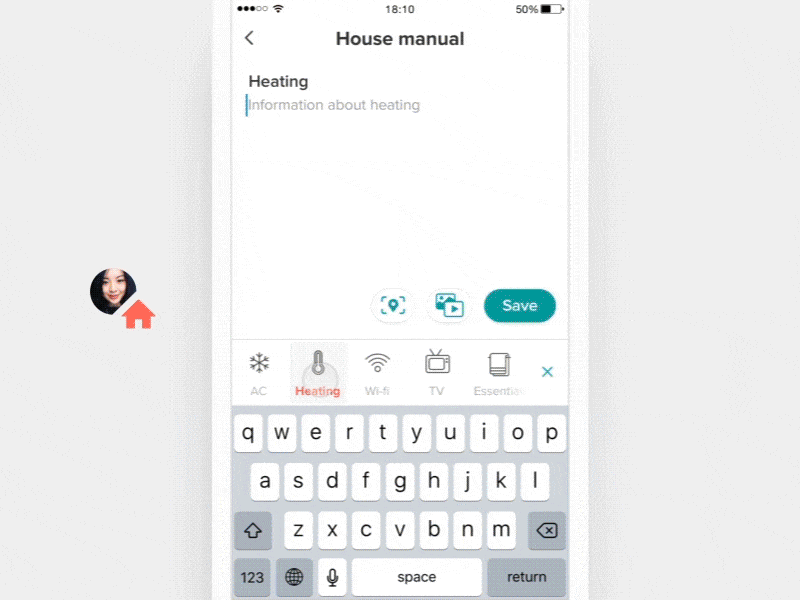 Influencers
A smart linking strategy is one of the reasons why the app has become even more popular than the Airbnb.com site. When users realize the advantage of your app, they will associate their positive emotions with your solution. As a result, a word of mouth is guaranteed. Users will gladly share their experience with others that is why you will get two profits at the time: user-generated content and free advertising.
Creating apartment apps for Android and iOS is the must for accommodation rental services. These tools provide users with a greater UE and allow business owners to implement a more effective marketing strategy.
In our latest whitepaper we analyze the main areas to consider for innovations within the travel industry in 2019 and aim to help you set the right investment priorities. Download our whitepaper "Travel Industry: Where to Invest" and make sure you can always expand and integrate your service, product or solution later.