What Should You Know to Create a Perfect Dating App in 2020

The technological landscape has been actively changing in the last decade and influencing various aspects of our life. Dating has been impacted by the processes ongoing in the digital world as well.
The stats goes that in 2019 more than 45% of Americans use dating solutions and above 20% admit their relations started online. Similar data is demonstrated in other countries. So the most popular way of meeting a spouse nowadays is a dating app.
No wonder the market of dating applications is constantly expanding and the demand for innovation in this industry does not cease.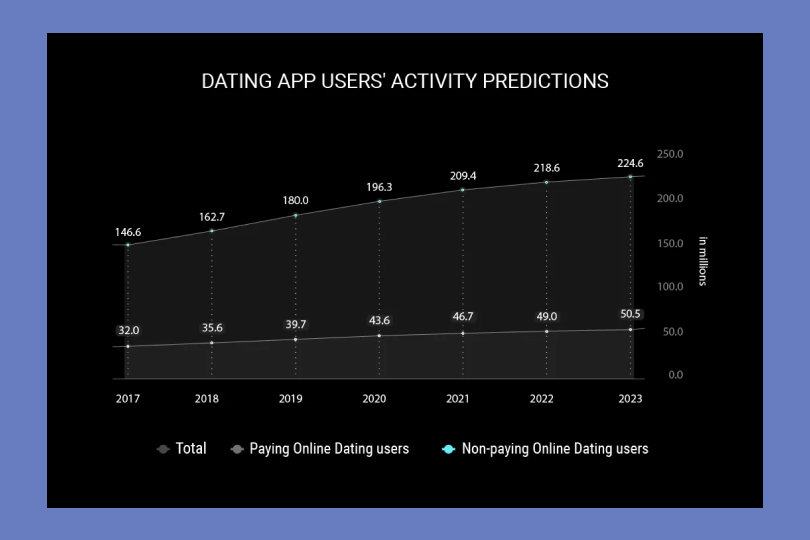 Though the number of solutions grows, there are only a few, which satisfy the users. The present-day mobile dating apps already boast accurate cutting edge algorithms and it's high time to know the ropes and tricks to all those who are eager to enter the market at the nearest time.
What do peoples expect from a dating application?
Dating solutions are already treated like social networks, people widely use them and involve the others. However, there are certain differences and the foremost feature the users expect from such an app is security. Today, it's vital to invest in the security checking of the users when developing an app for dating. Being your priority the security and safe UX might become your competitive advantage.
The following important aspect to pay attention to is an intuitive UI, Tinder pulled over most of the competitors precisely because of its intuitive interface and effortless swipe technique. Speaking about the online dating apps development we could not but should mention those who top the market at present to get a better understanding of the other features needed to be implemented.
Who leads the industry today?
Tinder
The first app occurring in the mind when speaking about modern dating solutions is obviously Tinder. It's available in almost 30 languages, used in almost 200 countries, encompasses 50 mln users and boasts over a million dates a week. Today the app is reputable for being the best at forming long-distance relations and successful marriages.
The user should no longer have an account on Facebook but has to be 18 years old at least. He can provide his short bio, add up to 6 images and a link to Instagram. Besides, it's possible to define who he or she would like to see.
When showing a user Tinder displays a photo, name, and age, the swipes help to like, pass or «super like» the person. If two persons have swiped right (liked) each other they are suggested to exchange messages.
That's the advantage of Tinder — you'll never get an unsolicited message until you show any interest in the person. So this is one of the best dating apps for serious intentions, though a certain number of hookups are naturally present.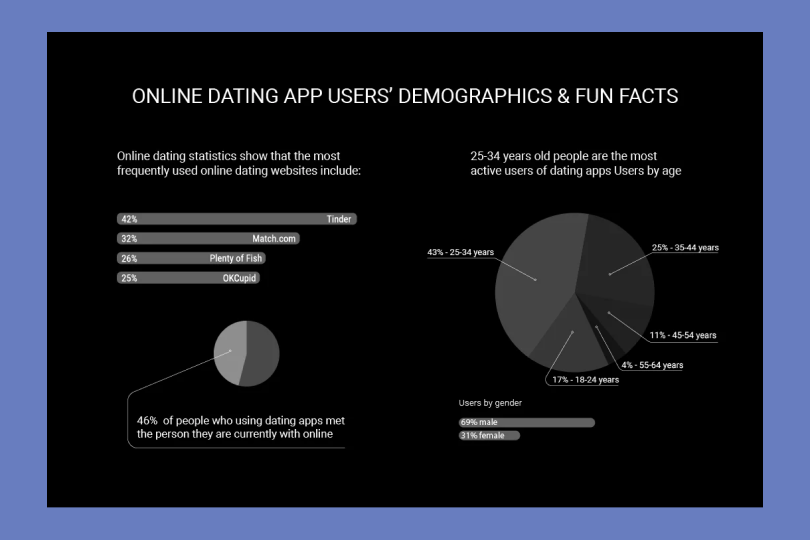 Facebook dating app
Facebook dating, though not available everywhere, has been rolled out in the USA and gained popularity due to the possibility to use it along with Facebook and not to create a new account in a new app.
Through just several additional steps a user can set up a profile on Facebook dating and define the gender he or she is looking for, confirm location, then a profile picture should be chosen. A few days may pass until a match will be suggested and the one who got it can just tap the heart icon on the profile to open the option and send a message.
A person can also choose up to 9 contacts, Facebook or Instagram, as a «secret crush» if somebody of them also selects a user, he or she will be notified that the feelings go both ways.
OkCupid
OkCupid is one more giant of the dating sphere, having years of history. The individual's journey starts by filling out a long profile, which can be linked to the Instagram account. The answers to the questions may be given with the potential match consideration for better compatibility visualization.
Though the option quick match exists, the general app interface is rather clunky and the user can get messages from anybody, which is obviously a drawback.
How to develop a dating app?
Now as you know a bit more about the dating applications existing, and the fact that there are no two solutions similar, we can speak further on about the way such a product should be created.
The following steps may be considered a working algorithm for dating app development:
Define the principles your app would follow.
Decide on the platform for your solution.
Study the functionality needed.
Analyze the benefits your product will provide.
Work out the structure, UI design and proper UX of the application.
Decide on a tech stack to use for development.
Develop an MVP, launch it, get the feedback and craft the following iteration (repeat several times if it's necessary).
Choose the revenue model and way to monetize your product.
As soon as you have got this plan and figured out the platform your product will be on and the main principles to implement think about the features your solution will have. For the products like this first impression is of great importance, just like the first date, so consider the proper introduction of the app functionality to the users, a sliding tutorial may be a good idea. The next catchy detail to craft is a perfect UX design; the users should fall in love with it once and forever, so make it clear, simple and intuitive. Since almost half of the users rely on their thumbs when dealing with smartphones, your perfect navigation should involve just one finger and several clicks.
Which dating app features to choose?
And finally, about the features, your app should have:
Sign up/in option, better through social networks.
User profile, the information can be extracted from social networks.
Geolocation to find soulmates nearby.
Variable matching algorithms to make the search convenient, flexible and quick, based on different parameters, like age, hobby, location, etc.
Messaging/Chatting to facilitate communication between the users (don't forget to think about stickers here.
Real-time synchronization for the user to always stay up-to-date.
Notifications either push or SMS for the users not to waste time and be able to switch to chatting if there is a match.
Swiping, having proved to be convenient in Tinder, the feature is worth implementing.
Settings to customize user preferences (either it's profile visibility, sounds or search filters).
Reviews and rating after the first date can also be considered.
Payment integration and administration to offer premium service to the users.
Admin panel is necessary to manage your app and its users, solving the issues that may set in.
How much it costs?
Naturally, you have now a question — what is the budget for such app development. Our calculator will easily prompt you with the average sum needed. As you can see from the video below, our rough estimation is about 70K+. However, each project is discussed with the client individually, and we are eager to analyze your idea in more detail.
Conclusion
Obviously, the field for development and improvement is vast and the soil is fertile. Now you can use this article as a source of inspiration or a kind of tutorial to take actions, anyway, we are nearby to provide you with consultancy and support. Together we will definitely make your new solution stand out from the crowd, let's combine your creativity and Stfalcon expertise.