5 Progressive Digital Solutions to Upscale Your Transport and Logistics Business

Automation is a major precondition for advancement in passenger and cargo transportation. With the introduction of new operational models, logistics today has become much more complex. Clients expect faster service and more transparency. So, even small and middle transportation businesses turn their attention to digital solutions in hope to minimize manual management, paperwork, and foot-dragging.
In its turn, the digital market does its best to meet the growing demand with hundreds of tools for any taste. For the unsophisticated in technologies average business owner, the attempts to sort out all available software products may cause dizziness.
Being recognized experts in the development of IT solutions for transport and logistics, we at Stfalcon.com have figured out what types of digital products are the most demanded and useful in transportation industry today.
In this article, we will briefly analyze 5 IT solutions from different spheres of transport and logistics: transportation and fleet management systems, parcel forwarding systems, online booking systems, and mobile apps as major means of connection between dispatchers, drivers, and clients.
TMS and FMS: Keep an Eye on Your Vehicles on the Way
TMS (transportation management system) and FMS (fleet management system) are the two quite similar digital products with often intersectional functions. Their spheres of use include distribution, vehicle rental, passenger transportation, etc. As all automated systems described in this article, they can be both used separately or integrated into the company's ERP (enterprise resource planning system).
FMS majorly relies on telematics and satellite-based communication to collect real-time information from the vehicles for their en route tracking and transportation process monitoring. This information is further distributed to other software applications, like TMS, to help the back office with productivity improvements. The technologies used include GPS (global positioning system), GIS (geographical information system), IoT (the internet of things), and telematics devices. The data collected include vehicle condition, drivers' performance and drivability, stoppages, compliance to the route, transportation conditions (like temperature, for example), and fuel consumption.
TMS is an online platform aimed at optimization of daily operations of transportation companies. It helps to collect and analyze all kinds of data connected with the transportation process and turn it into decisions on work optimization. In the core of a TMS there is electronic data interchange, that is, computer-to-computer exchange of documents, invoices, reports, etc. in a standardized electronic format. It is realized with the help of the API which integrates various services into one single coordinated system available for different parties. Depending on your business needs, it can comprise different constituents. Here's, for example, the architecture of the TMS developed by Stfalcon.com for the SmartSeeds cargo transportation platform: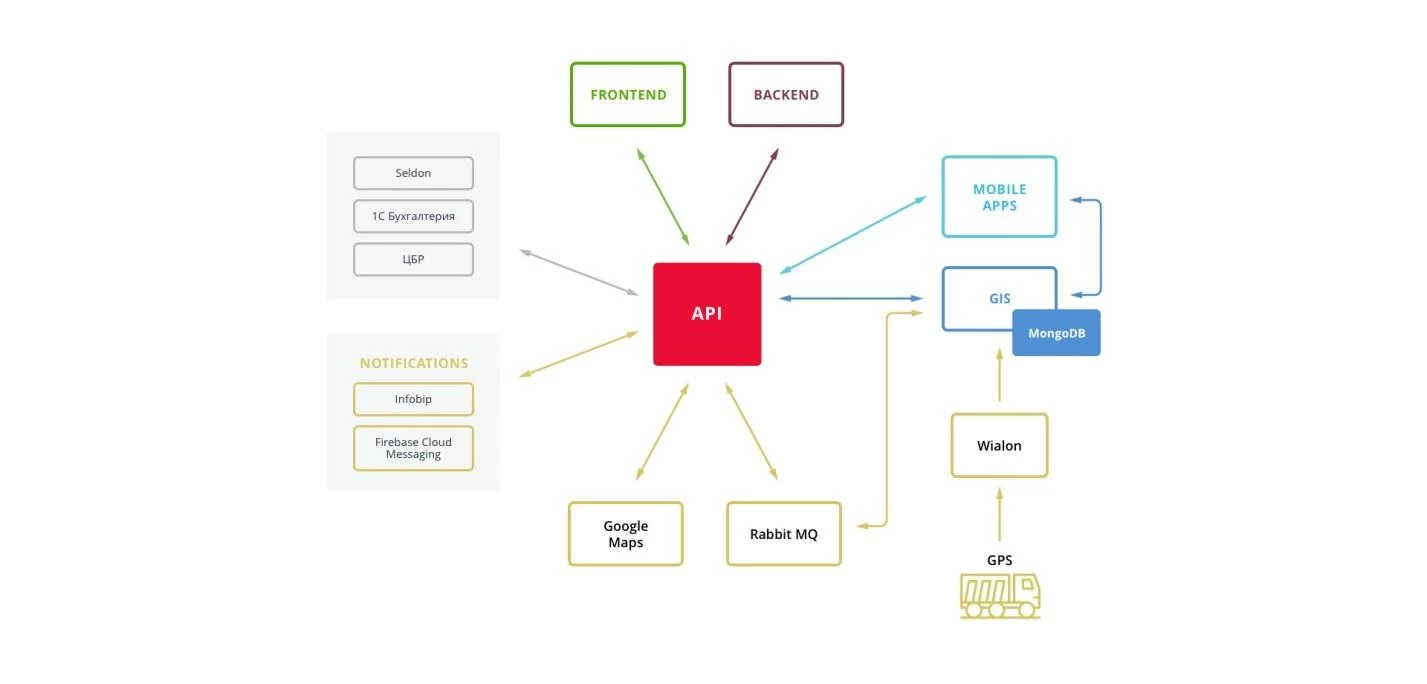 Parcel Forwarding Systems: Serve Your Clients from any Corner of the World
According to statistics, more than 1 billion purchases annually are already made online — and the figure is constantly growing. This taken into account, the demand for package and parcel forwarding services is also increasing. Parcel forwarding system helps you to organize a fast, transparent and pleasant cooperation with your clients.
Usually, it is a two-sided service which consists of an administration panel and a user platform. Users can choose shopping items, arrange orders and payments and track their parcel delivery. Content managers and warehouse operators use the administration dashboard to fill the site and manage the warehouse. With more complex solutions, a full-fledged warehouse management system can be integrated into the service. And if you deliver goods from different countries, you may think of a multisite where each site represents a separate country, as we did for the largest forwarding service in Ukraine Nova Poshta. You can see the example of the country page for this service in the picture. The full case of Nova Poshta forwarding service development can be found here.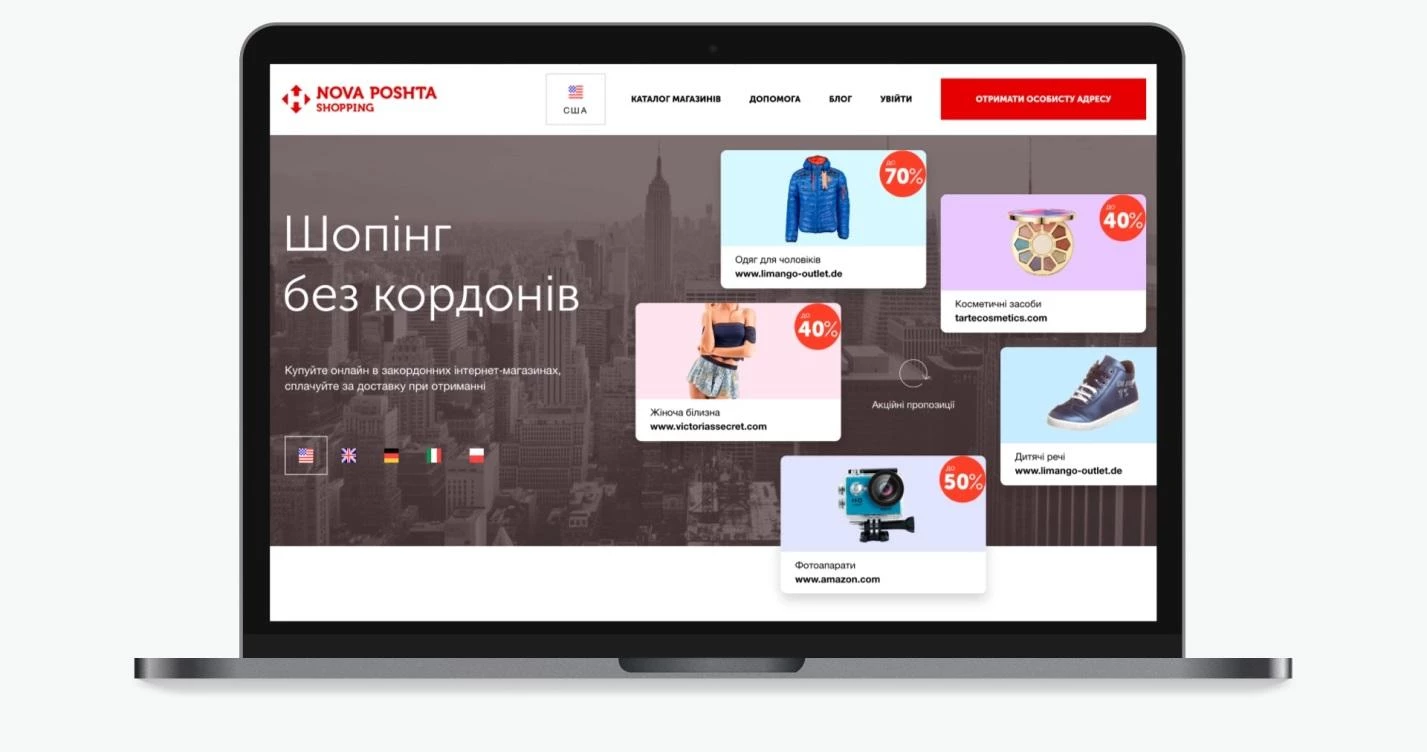 Online Booking for Passenger Transport: Sell Tickets via the Internet
An online booking system (or ticket reservation system) is a piece of software which allows your customers to buy tickets online from their computer or mobile without visiting a cashbox. They can more conveniently select the best day and seats using an interactive seat map and pay without leaving a website, which makes such service more and more popular among travelers. Since all the information and schedule are automatically updated, an online booking system saves you a lot of time and workforce. The system can be integrated into your website or even social media page.
The most widespread functionality for online booking systems includes reservations management, composing passenger lists, and tracking client details, but with custom development, you may decide what functions are necessary for your company. While developing a booking site for the German passenger transportation company, we included the following components: trip planning with opportunity to control transfers between lines, monitoring of ridership, tools for flexible pricing and sales analysis, visualization of data with the help of D3.js, email and SMS passenger alerts, managing agencies and partners, online route monitoring, geographic information system. The security of information is ensured by encryption and SSL security protocol.
The Power of Mobile: Stay Connected 24/7
Unless your fleet consists 100 % of driverless cars and your warehouse is operated entirely by robots, human interaction will always stay an issue for you. And even if your communication with your staff members is instant, can you say the same about your interaction with your clients? Luckily, today, mobiles make it easier to keep in touch and transmit information at any time even if you are offline. Apps are used to communicate and execute transactions, location and availability of vehicles, to obtain environment sensor data, and to enable direct store delivery.
In the transportation industry, the apps of two kinds are the most widespread: the ones for clients and those which are internally used by the staff. An example of the latter ones is an app for drivers that allows managing of the transportation process from the driver's side. Due to the SmartSeeds app, for example, the driver can report about the state of request completion and give precise and timely information to the dispatcher in case of unforeseen circumstances.
In warehouse management, apps help to minimize inaccuracies and errors. Equipped with scanners, they help to automate logging the IDs of goods and storage and equipment location identification, procurement tracking and stock replenishment. Apps can also be used for the barcode scanning or as image recognition devices.
Still Hesitate What to Choose? Contact a Development Team
We have briefly analyzed the most widespread types of digital solutions for the transportation sector and their functions. The main parameters software helps transportation and logistics companies to keep track of include route optimization, vehicles availability and condition, staff performance, inventory, and interaction with customers. There are many ready-made IT products in the market today, and with the guidelines proposed, we hope it will be easier for you to identify what solution best fits your needs.
To choose the right priorities for the successful development in transportation segment in 2019, download the Stfalcon's latest whitepaper "Transport Innovations: What Your Business Really Needs".