How to plan startup development with Happy Startup Canvas

Strong community is an important component of a successful startup. That's why Product Hunt is so popular. It managed to build a community of people devoted to finding new useful products. We have already written about business modelling tools that are more focused on finding a unique value proposition and defining your revenue streams and today we are going to talk about Happy Startup Canvas that will help you to find users, fascinate them and build a community around your product.
What is Happy Startup Canvas
Happy Startup Canvas is a model created by Laurence McCahill. Happy Startup Canvas is aimed at building a startup with clear vision and purpose that help to get loyal users. Here's how it looks like: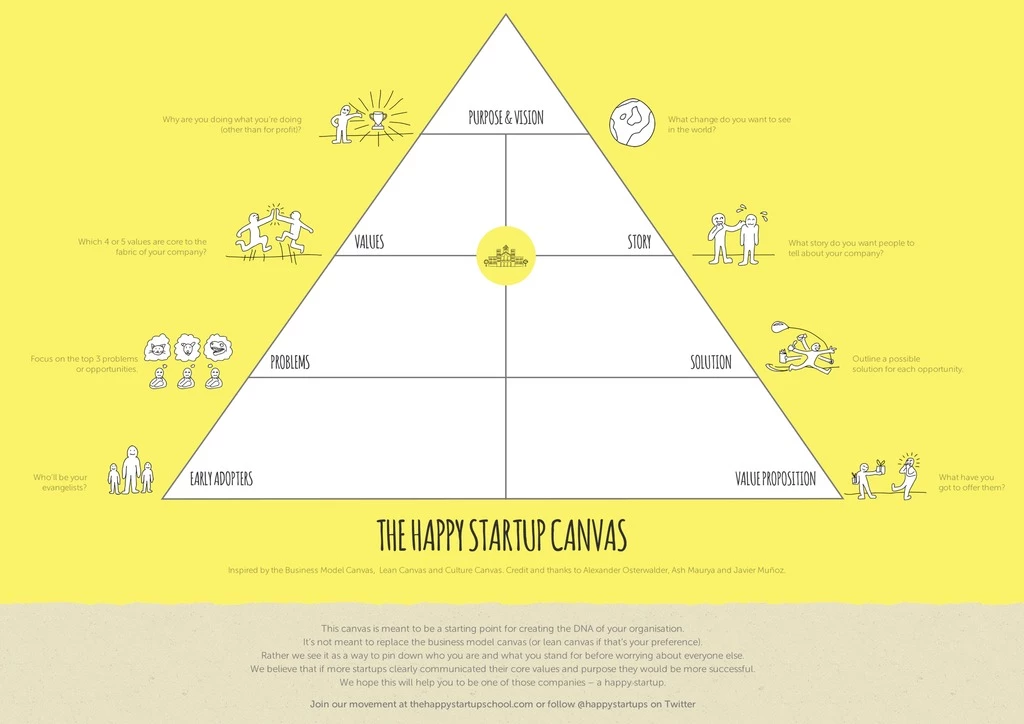 Have you noticed that many young entrepreneurs make more efforts to attract investors than get users for their product? Don't be like them. It sends the wrong message of you caring more about how much your startup makes than how you can help people to address their pain points. And that's bad 'cause customer loyalty is something you can't buy, no matter how much you get in whatever round of investment. When modeling business you should think hard about your purpose and long-term values.
This model shouldn't be seen as an alternative startup canvas tool to business model and lean tool, it's rather another dimension entrepreneurs should think of when building their startup.
Finding purpose, vision and values for your startup
Of course you are creating a certain product (educational website, startups for photographers or app for buying bus tickets) you are advertising and marketing but you also got to understand what is you broader startup product vision and purpose (except for making money of course). Purpose is a change you bring into the life of others with your product. Startup purpose examples:
Coursera — universal access to the world's best education.
Kickstarter — help in bringing creative projects to life.
Shyp — make shipping a better experience for consumers and businesses alike.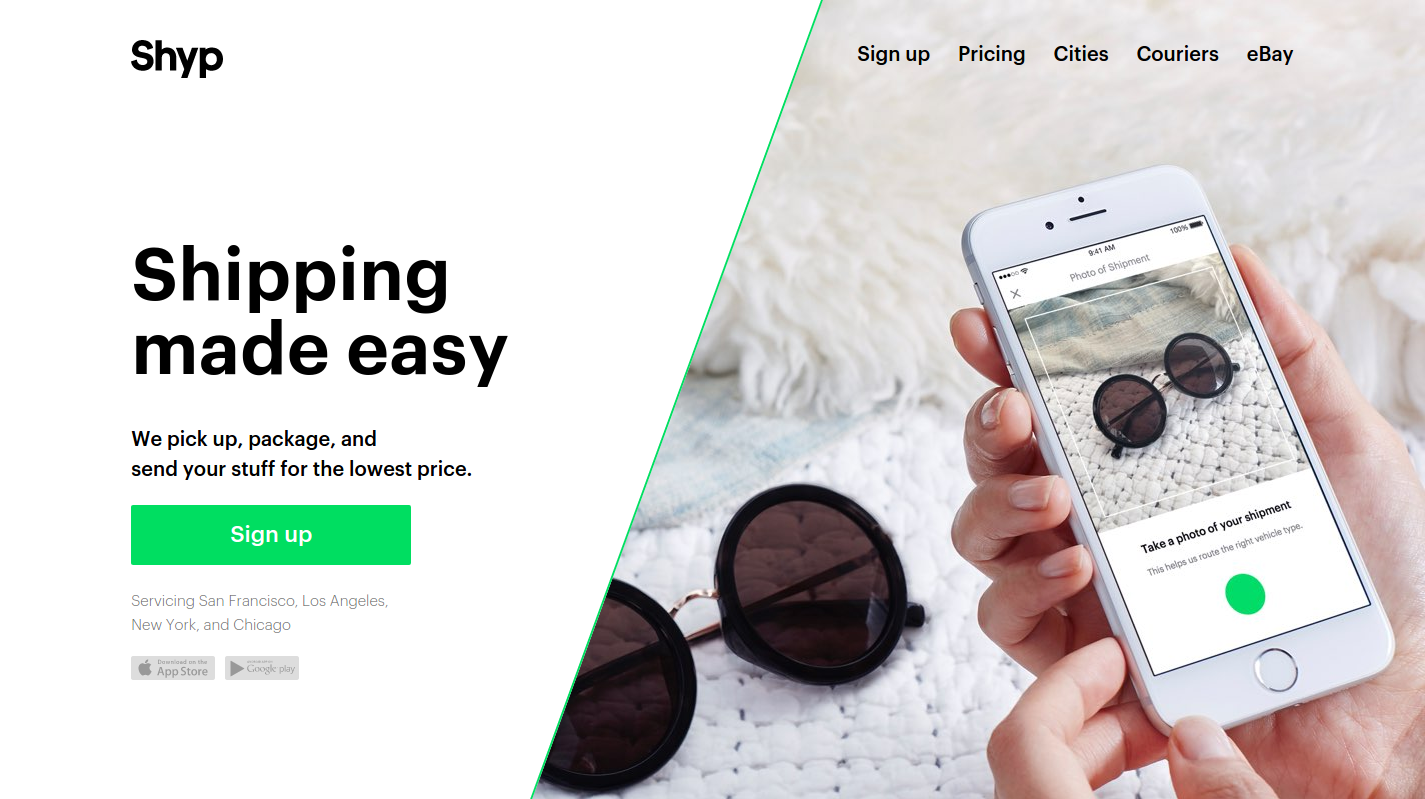 Vision is the change you want to see in the world in the long-term perspective. Examples of startup company vision statements:
Tesla Motors: to help expedite the move from a mine-and-burn hydrocarbon economy towards a solar electric economy.
Airbnb: create an open world where everyone's at home and can belong anywhere.
Twitter: to give everyone the power to create and share ideas and information instantly, without barriers.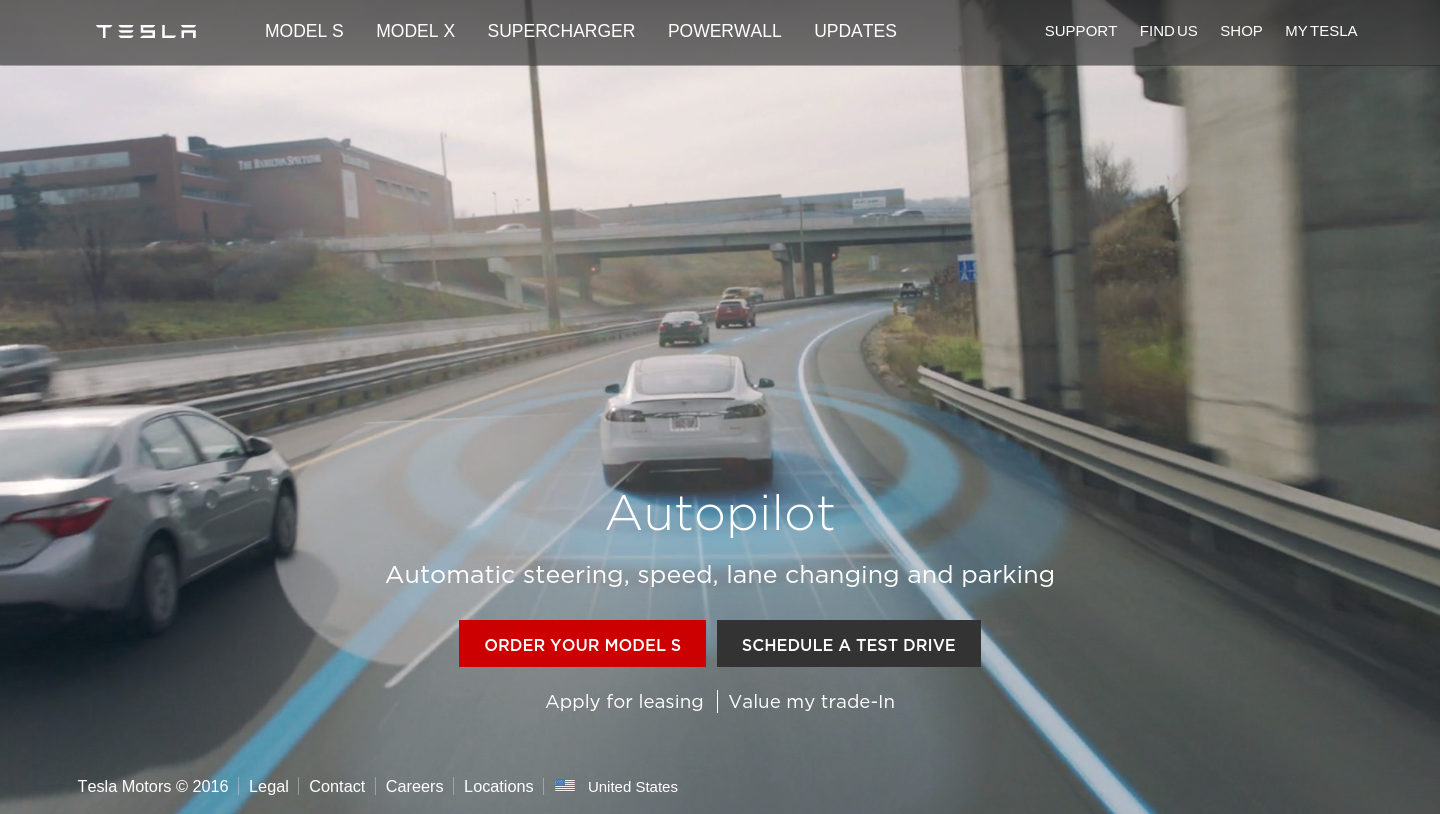 By identifying the purpose and vision of your company from the very beginning you will be able to create a strong habit-building startup and make decisions about its development as well as decide on values you base your operation on. Values are believes that stay unchanged over a long period of time even if you pivot your startup to offer product to a different audience or change the product altogether.
Startup values examples:
Instacart (grocery delivery service): ownership, sense of urgency, do more, customer focus, highest standards, resourcefulness, backbone humility.
Uber (an alternative taxi service where almost anyone can become a driver): be an owner, not a renter, take big bold bets, the best idea wins.
Groupon (service connecting subscribers with local merchants): do the right thing, follow the law, act ethically, treat people properly and speak up.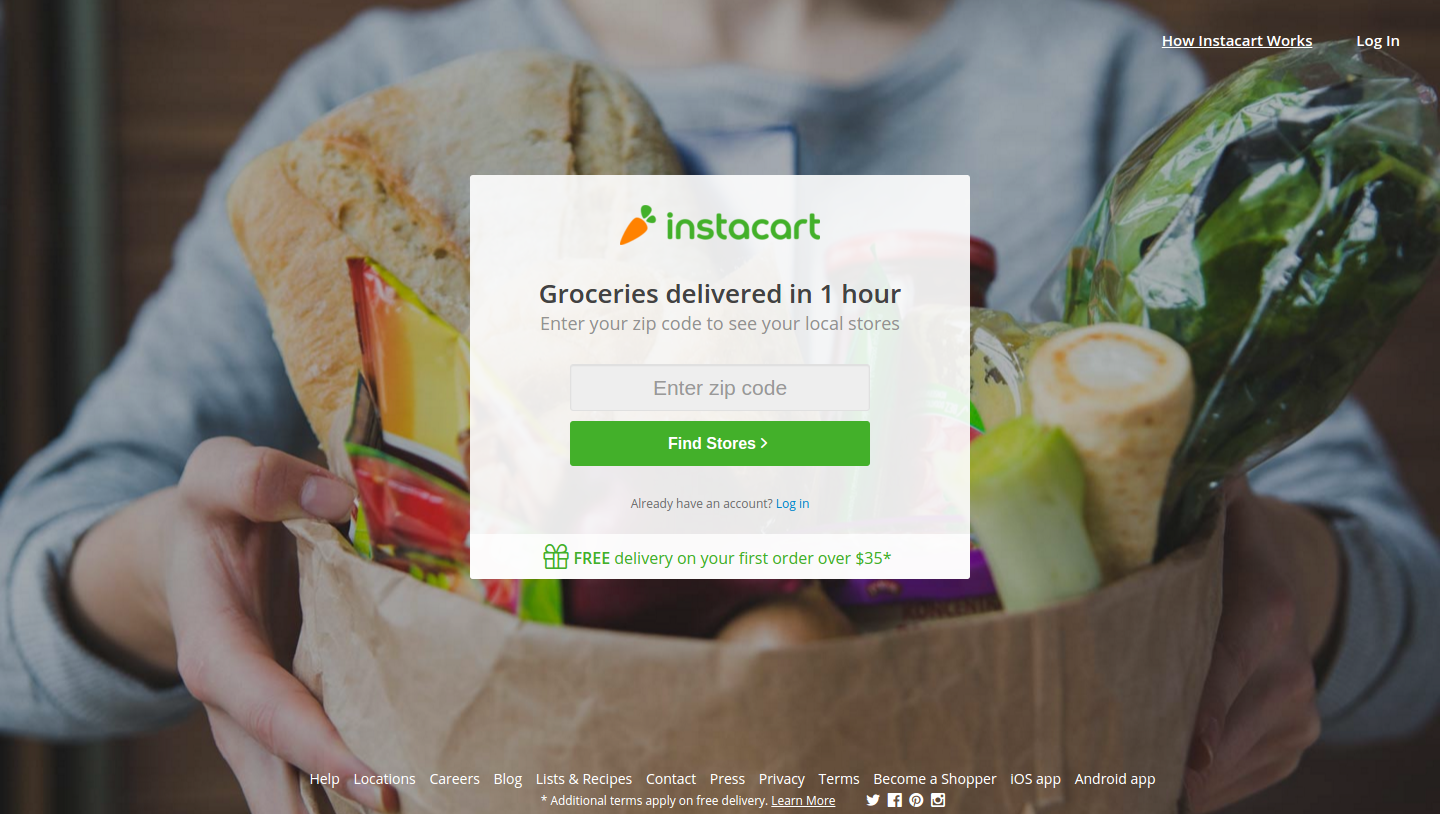 Storytelling for startups
After your vision and values are defined, you can begin with creating a story for your startup. Storytelling helps to create an emotional connection between users and your product. Thanks for this connection it would be harder for customers to switch to the products offered by your competitors.
Story sells not the product itself but an experience, what people feel when they use it. A good example here is GoPro. Company is selling action cameras for shooting videos in extreme conditions and nailed the emotional part of the brand. It creates dynamic and inspiring videos featuring all kinds of sports, from waterskiing to mountain biking.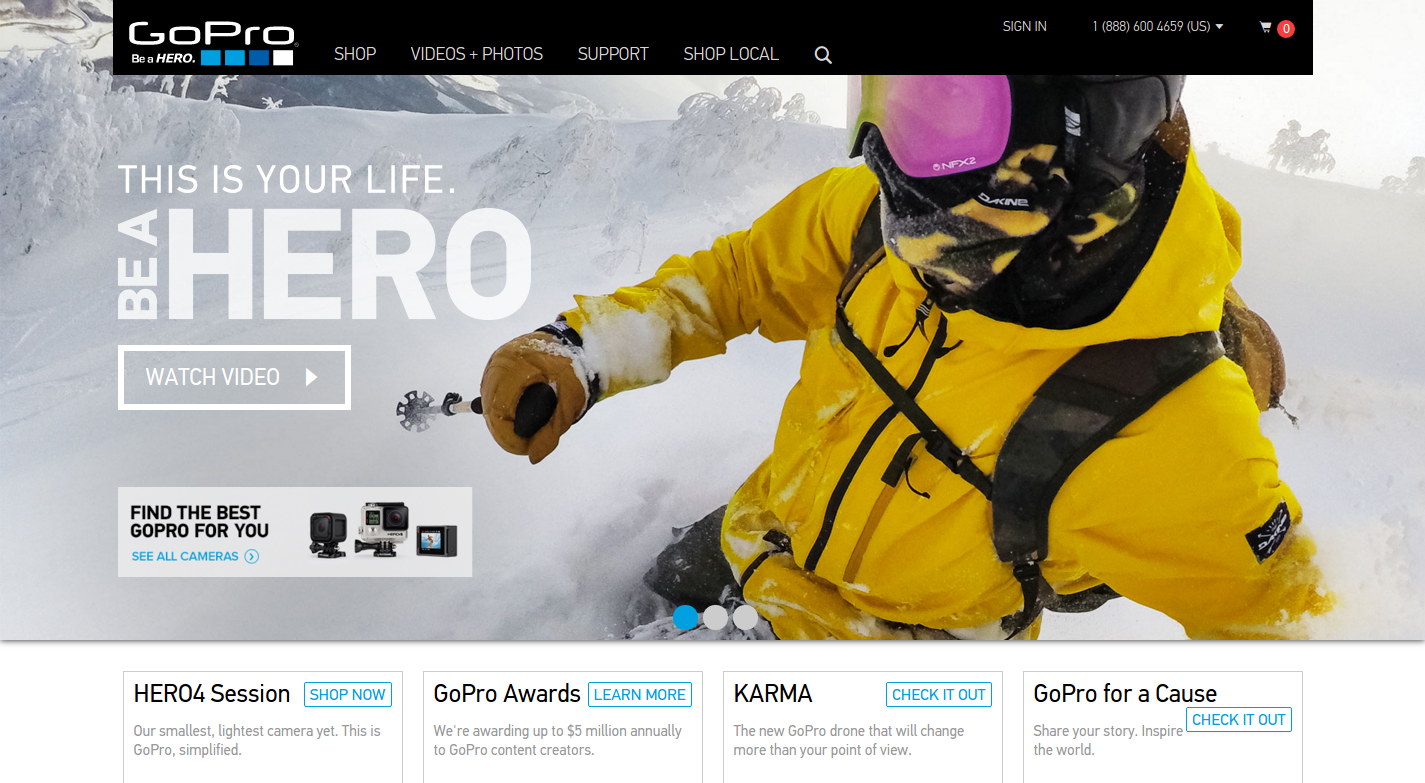 Airbnb is another example of company successfully using storytelling techniques. It convinces the clients that renting a flat isn't simply a way to save money, it brings them closer to feeling at home in any place as if they were visiting friends there. Sounds comfy and nice, isn't it?
Problem and solution
Startup has to solve a problem in order to survive. But don't get overly ambitious with the scale of your solution. Break the problem you want to solve with your startup into separate elements and identify what is the simplest product you can create to check your hypothesis. That would be your MVP. Here're some companies that started this way:
Airbnb created a simple website that allowed to rent a place in the founders' apartment.
Dropbox shoot a video with product prototype.
Craiglist launched a newsletter informing about local events.
Value proposition
It is innovation, service or feature that makes company attractive for the target audience. Blue ocean strategy will help you find a unique market for your startup. According to it you shouldn't try to outshine other companies with all the parameters they traditionally compete by in the industry. Instead, identify which 1-2 aspects of the product are truly important to customers and focus on improving only them.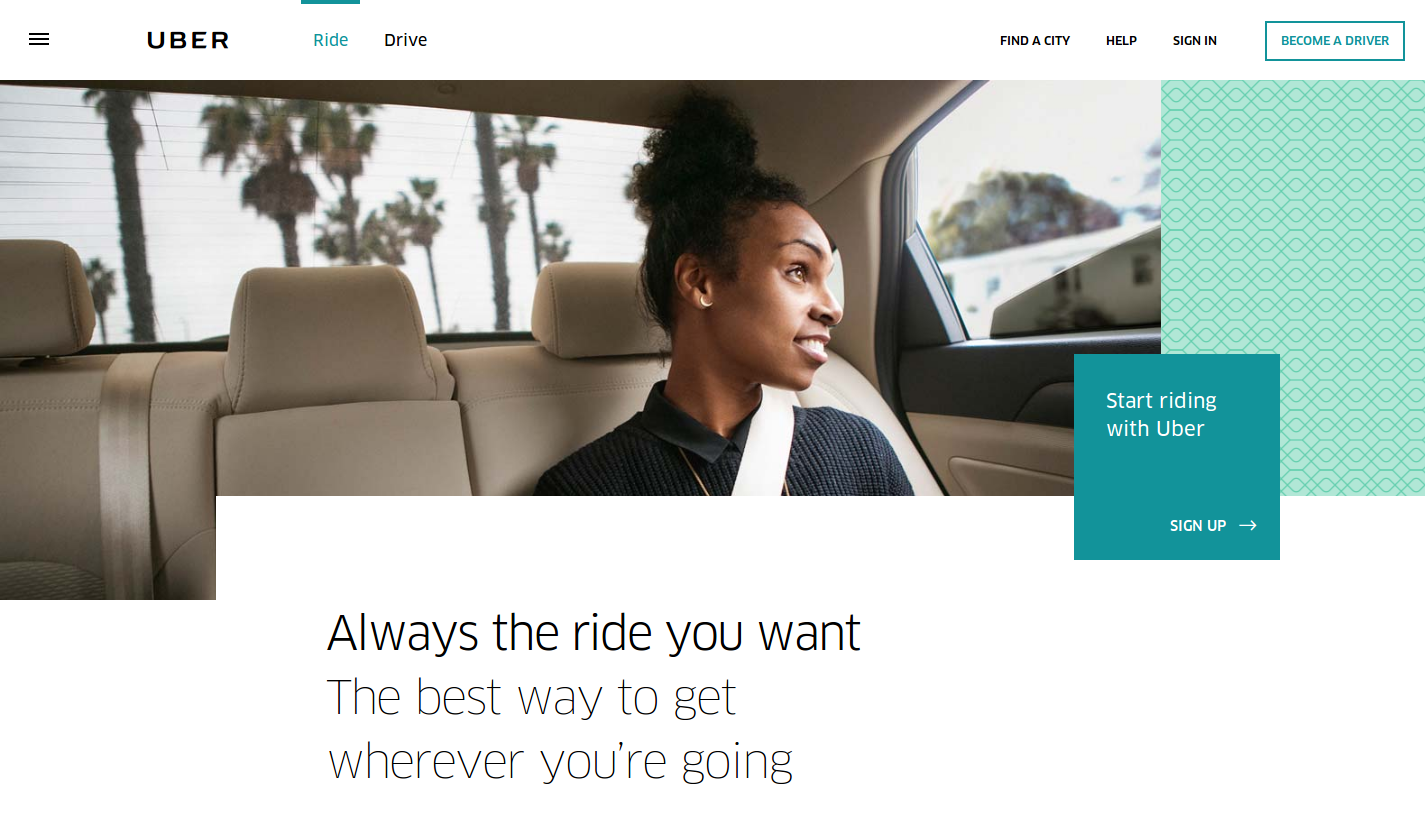 For example, casual customers don't care much about certified taxi drivers. The overall service level, vehicle condition and taxi arrival speed are usually more important for them. Have you recognized the startup that used all this to disrupt the taxi industry? It was Uber, of course!
Early adopters
Early adopters of your service are those clients who love your product so much that they constantly recommend it to their friends and followers. If you have reached this far, you know what goal and values of your startup are. What you've got to do is create a landing page with news signup form and stick to your values when communicating with the potential customers on social media and community websites like reddit or Quora.
Focus on creating a community around your startup:
Answer user questions in a timely manner, thank them for mentioning your product and ask for their opinions on it.
Don't be afraid of contacting influencers. Know anyone writing about hardware startups? Write that person on Twitter!
Create educational content that is in line with your product and share links to useful stuff.
Consider guest blogging and contributing to popular web-sites.
Come up with special offers for your subscribers.
Startups can look for adopters among different groups of users. For example, Twitter focused on advanced Internet users and geeks while in the beginning Facebook positioned itself as a closed community for chosen ones.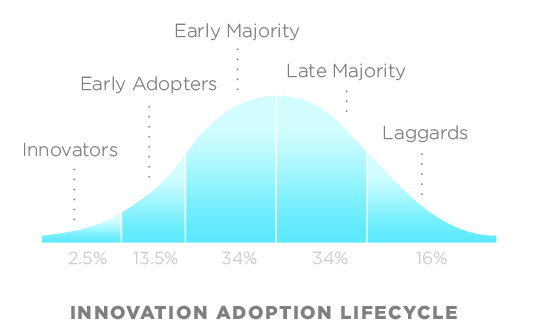 Summary
Happy Startup Canvas is a startup model that can be used not only to capture user problem and your solution but also to bring together all the elements that are important for creating a strong community around your product:
goal and vision for startup company as well as value your target audience can relate to;
your unique story;
early adopters.
Have a startup idea? Contact studio stfalcon.com! We create MVP for startups and will be happy to help you.