How to Get a Successful Startup by Creating a Messaging Application?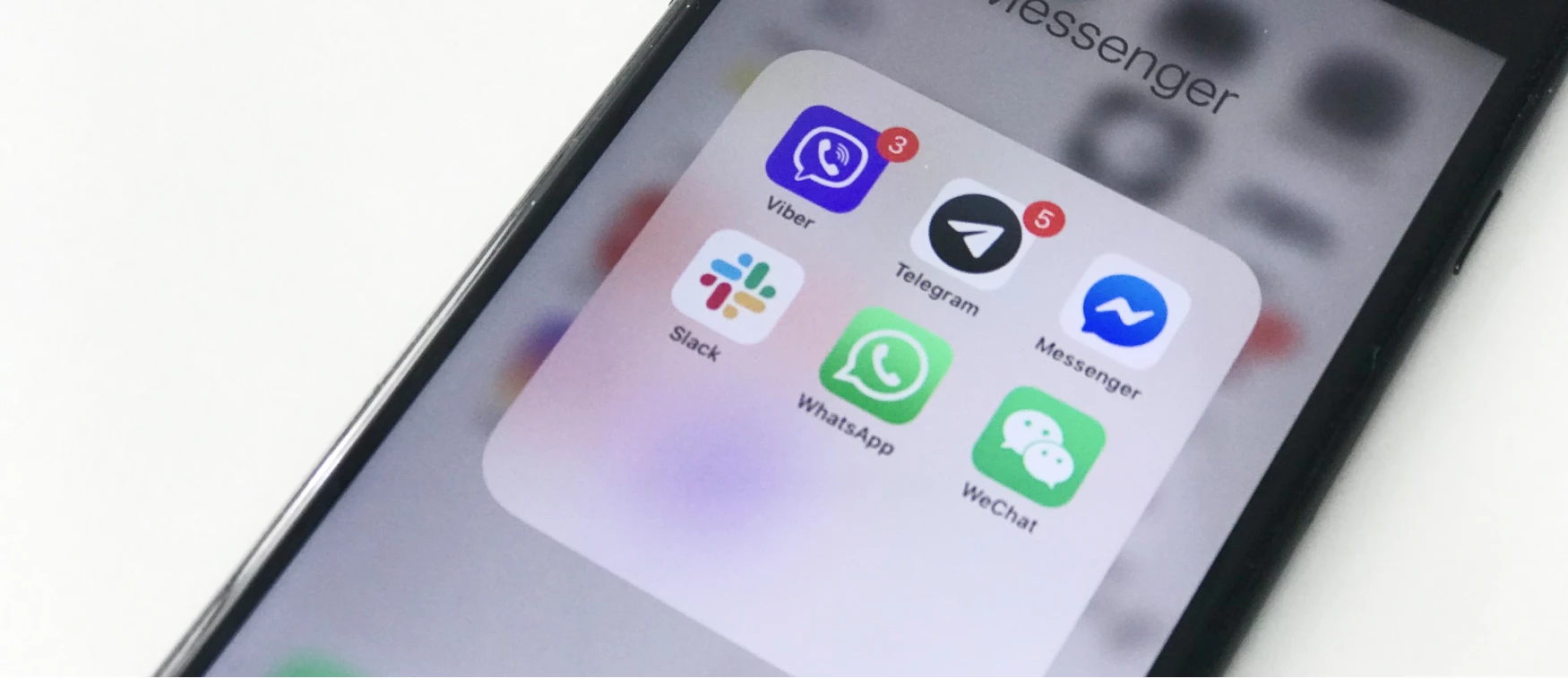 Microfocus reports that more than 100 million messages are sent globally every single minute. It's no wonder that the messaging app market is experiencing rapid growth.
In 2021, a staggering 3.09 billion individuals were regular users of chat apps. This number continues to surge and is projected to reach 3.51 billion by 2025. Leading the pack is WhatsApp, the world's most utilized mobile messaging app, boasting over 2 billion active monthly users. At the time of writing, an impressive 2 billion users engaged with WhatsApp's messaging service on a daily basis. Notably, its user base and reach are particularly robust in countries beyond the United States, solidifying its position as one of the most downloaded social media apps on mobile devices worldwide.
Is there a place for your startup messaging app, and what functions should a messenger include to become popular in a highly competitive field?
Because of the extreme growth of mobile apps market and a number of smartphones, low-cost or free instant messaging apps have become a cheap alternative to messaging via SMS or MMS. Messenger apps offer a wide range of opportunities for users, such as group chats, photos exchange as well as stickers or emoticons, even video and audio sharing.
Trends of Mobile Messenger Apps Global Market — Asian Products Are Snapping at its Heels
WhatsApp and Facebook Messenger app have topped the market for over 3 years already, followed by Asian WeChat and QQ. Asian mobile messenger app market is continuously expanding local apps, and is actively competing for leadership.
Most popular mobile messaging apps worldwide in 2023, based on number of monthly active users (in millions).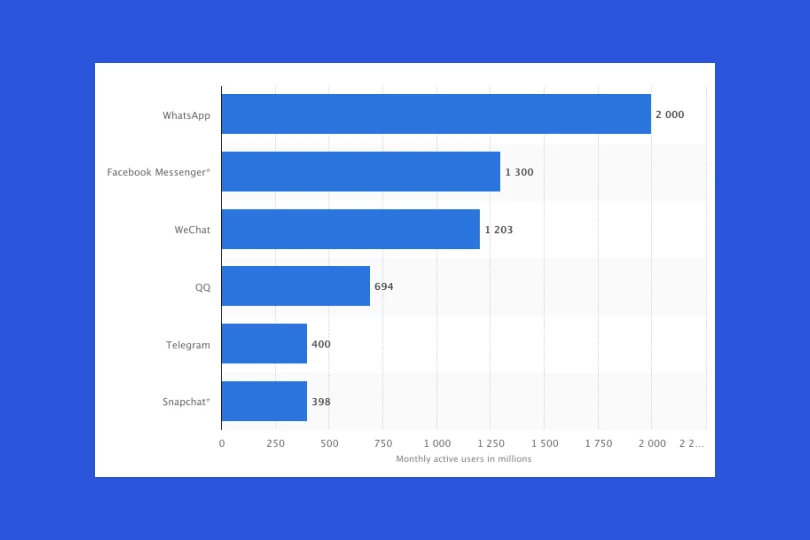 If you want to create a messaging app and turn it into a successful startup , you should consider what opportunities are already provided to the users by the giants of messaging industry. You might also be interested in 10 tips on getting real with your startup ideas.
WhatsApp
Only in the United States, WhatsApp gained 68.1 million active users in 2019. This figure is projected to grow to 85.8 million US users in 2023, but the most interesting thing is that this messaging app is especially popular in markets outside the U.S. while facing strong competition from Asia-based social messengers.
While WhatsApp encounters robust competition from social media giants like Facebook and Twitter in the United States, the app maintains a substantial user base, boasting more than 68 million active users.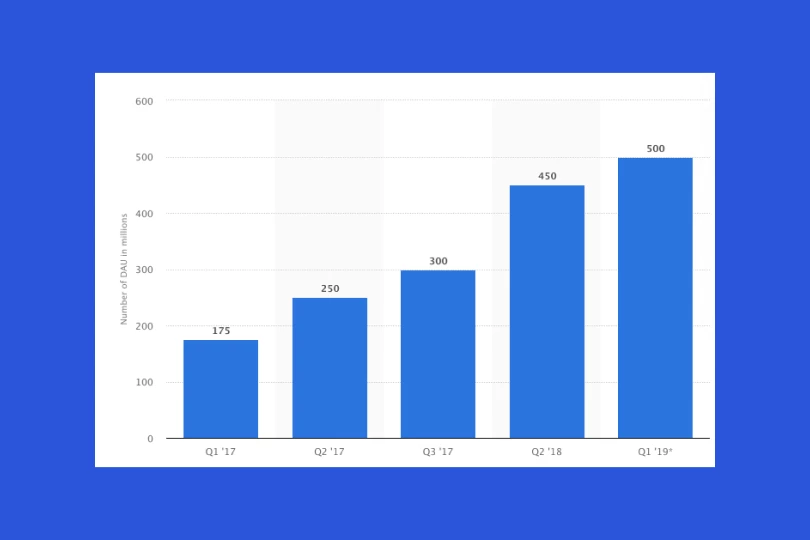 In 2009 WhatsApp was released as mobile messaging app for startup, and since then it has firmly gained the ground of the world's most popular messenger, available for almost all mobile operating systems. WhatsApp is a cheap alternative to carrier-billed SMS-messaging, especially since it is profitable for international or group messaging. WhatsApp's popularity on mobile markets is also based on its key features:
Quick registration, using the number of mobile phones;
Real-Time Events;
Files and images sharing;
Recording the voice mail;
Voice calls.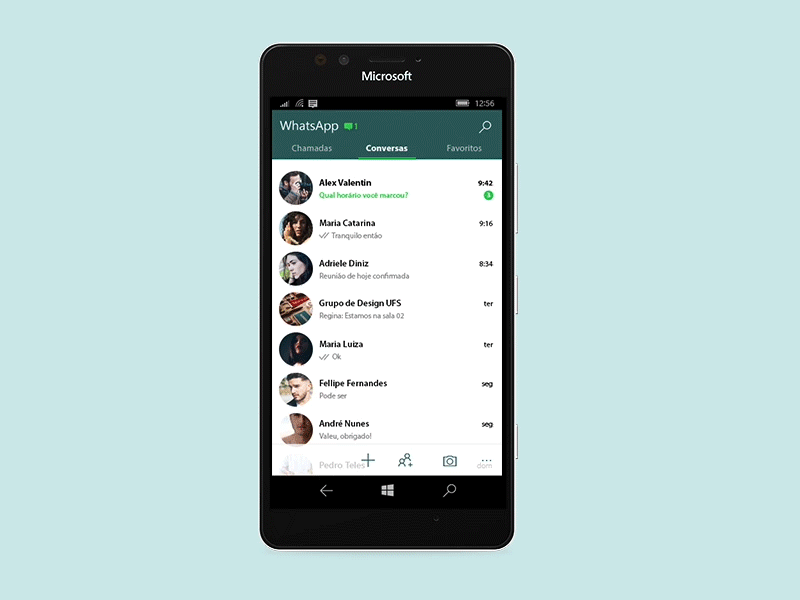 Also, in WhatsApp, you can upload files from third-party apps like Google Drive, OneDrive and iCloud into a message. For iOS, it is integrated with Siri, that can send messages or make voice-calls on the app directly. How much does it cost to develop a messenger like WhatsApp you may find here.
Facebook Messenger
In 2011, Facebook decided to build a chat app — Messenger, being dedicated purely to chatting, it is as famous as WhatsApp when it comes to messaging. The Messenger has a clean and light interface that is easy to use.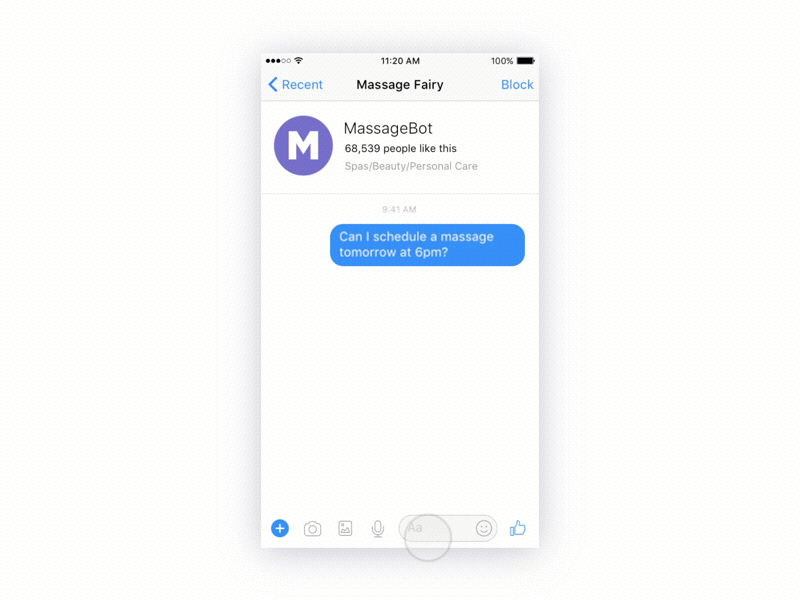 Besides text messaging, emoticons and photo sharing it is very rich in features:
Voice and video calling;
Use of In-Chat Reactions, GIFs and Stickers sharing;
Indeed a huge number of Bots;
Ability to add people to Messenger by clicking the Scan Code tab to scan the user's Profile code;
Rich number of games inside the messenger;
Function of setting Reminders for Plans;
With the recent update, user can also share his/her live location to friends.
A survey titled "Most Used Messenger by Brand" has identified "Facebook Messenger" as the leading messenger platform, with "Viber" ranking at the lower end of the spectrum. These findings stem from a comprehensive online survey carried out in 2023, encompassing 5,504 respondents in the United States. The messenger imports Facebook's contact and is easy to use both on a desktop computer and mobile devices.
Most popular FB messenger activities: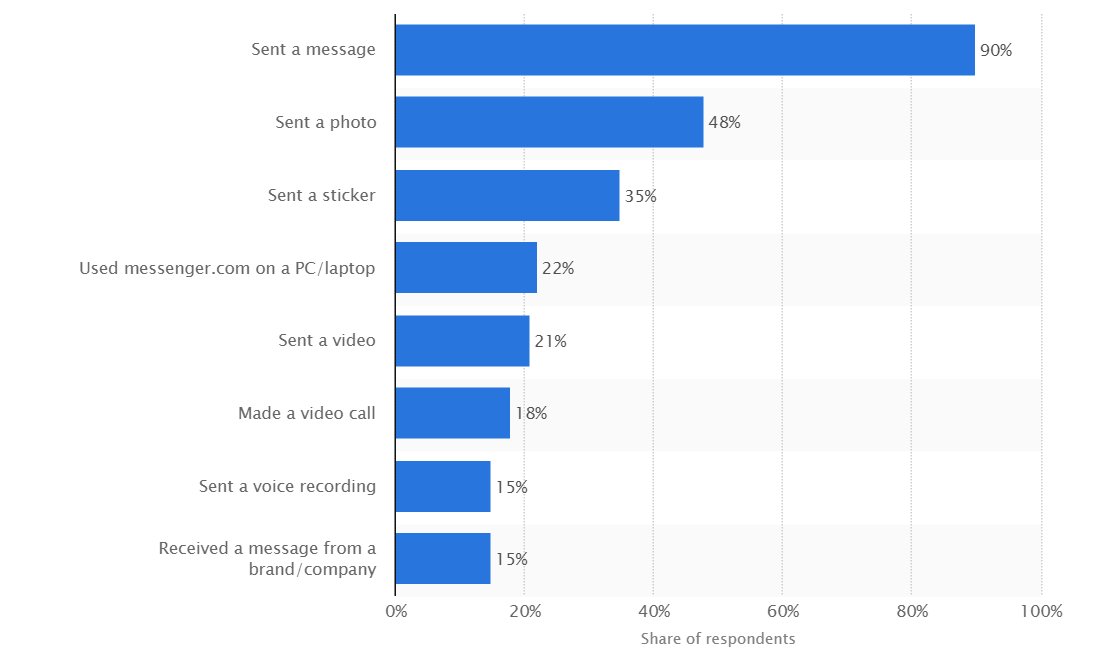 WeChat
WeChat, owned by Tencent, a Chinese tech giant, has more than 1.2 billion monthly users. It is the third most popular mobile messaging app, however, it offers much more than simply a text message exchange:
Voice messaging,
Stickers exchange,
Audio and video calls,
Sharing photos through the Moments feed,
Real-time location sharing,
Finding random people nearby,
Reading articles through Public Accounts,
Instant money transferring and paying in stores. You can pay for things with WeChat practically everywhere in China.
Sending virtual red envelopes with real money to friends,
Repaying credit cards, paying utility bills, and many more financial operations,
Getting access to third-party services like hotel booking, ride-hailing, shopping online, food delivery, and so on,
Public services access — booking appointment with a doctor, visa application, driving records checking,
WeChat is called an app for everything in China, even doing business, people prefer it to email.
Moreover, there are mini applications integrated within the service and all of them combined make it a one-stop app for its users.
Companies in China nowadays prefer mini-programs for WeChat instead of standalone solutions. It allows access to a user base exceeding a billion users. More about WeChat integration you can find here.
Viber
Viber was launched a decade ago as a messaging app, and the number of its unique user IDs neared 1.2 billion in almost 200 countries as of March 2020. Like the other messenger solutions, Viber allows its users to stay in touch and not only, but:
Install the app on multiple platforms and devices,
Synchronize history and transfer calls,
Make audio and video calls
Exchange stickers, GIFs, and emoticons that allow more customization
Record and send immediate audio and video messages,
Share pictures, music, videos, and files,
Delete read messages and conversations,
Create communities.
Viber Out also allows quality international calls to any landline or mobile worldwide, but you should have a positive balance for the purpose.
In addition, chat extensions allow users to search and share restaurants, events, hotels and more without even leaving the chat.
Telegram
Telegram, a cloud-based instant messaging service, emerged in 2013 and disrupted the market by claiming to be the most secure messenger app.
In 2023, Telegram has seen approximately 20 million downloads in the United States and maintains a monthly user base of around 10 million. While these figures may be noteworthy for many applications, it's essential to note that the United States contributes to less than 2% of Telegram's global user base.
Telegram has made security its distinctive feature and claims that all its activities: chats, groups and media are encrypted. Telegram even changed headquarters jurisdiction several times to evade problematic regulations, now it's Dubai.
The other advantage of the solution that it can be used on multiple devices (smartphones, tablets, laptops and desktops) and platforms (iOS, Android, Windows Phone, Windows NT, macOS, Linux).
The key features of the messenger are:
multimedia messages,
scheduled and silent messages,
voice and video calls,
photos and videos editing before sending,
self-destruct messages on secret chats,
unlimited customization possibilities,
free unlimited online storage,
live location sharing,
adding contacts based on user location,
bots,
slow mode (can be activated by the group admin),
polls,
creation channels to broadcast messages to large audiences,
sending uncompressed video and images,
possibility to lock conversations,
termination of active sessions.
What is more, Telegram has launched its own digital currency, Gram, claiming its goal is to create an everyday, mass market cryptocurrency.
Slack — a rising star of corporate communications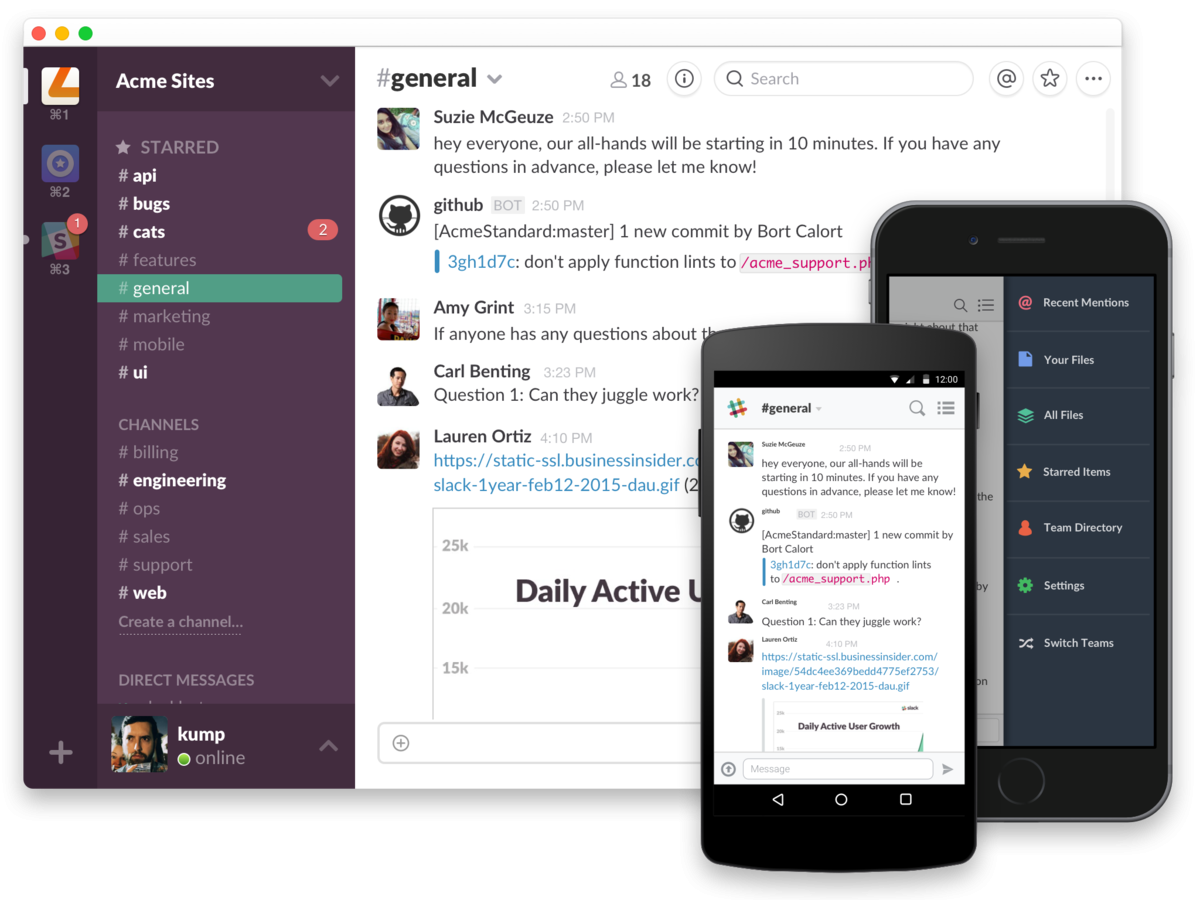 Workplace chat programs become more and more popular. Since Slack was founded in late 2013, it has become one of the top corporate messenger.
As of 2023, it is estimated that Slack has reached a daily active user count of 32.3 million, marking an increase from the 25.7 million users reported in 2022. Looking ahead, the projections indicate that daily active Slack users are anticipated to rise to 38.8 million in 2024 and further to 47.2 million in 2025.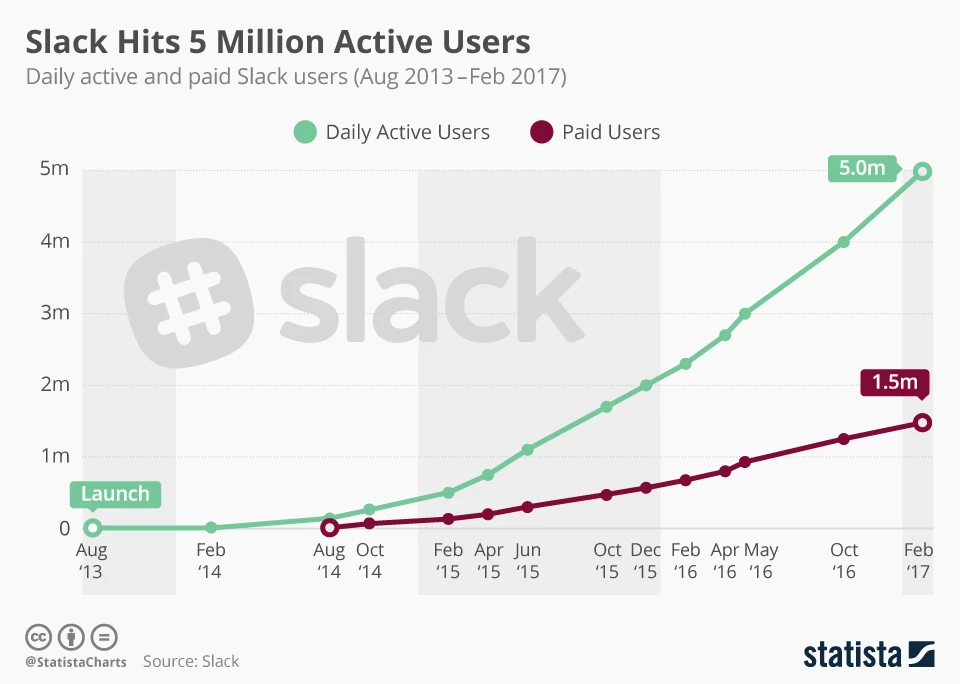 Slack users can send private messages to each other and use a wide range of functions for interacting and entertaining:
The ability to create many different channels for specialized conversations;
The Slackbot, that works like a virtual notepad for jot down ideas you want to keep an eye on;
Messages can be searched by keyword, also users can set up alerts to stay on top of conversation by keyword as well;
Integrations with third-party apps like Asana, Dropbox, and Google Hangouts, help pull information from different sources;
Slack is integrated with Giphy (the app for searching GIFs from the web), user access it by simply typing " /giphy" and a keyword like «Hello world!»;
The minus of Slack is that it doesn't keep messages story for long period. But, cencearning the dynamics, users don't really mind it.
Is There a Place for a New Messenger on Play Market?
If you are planning to make a messaging app, you should be ready to face high competition on apps market. Learning from top-rated messaging companies, we may conclude that the most important thing is to find your target audience and satisfy its demands, by providing rich functionality. For example, Slack has occupied its market by providing solutions for corporate needs. WhatsApp and Facebook Messenger demonstrate that two products with similar functionality, and even with similar interfaces, can successfully coexist on the market.
WeChat is popular due to its extended functionality and also Facebook is blocked in some Asian regions. Telegram took its audience by claiming they get high-level security and privacy with the app.
Just think, how many messengers you have on your mobile phone. Why do you have several? Most likely, you use different applications for different purposes: one for work, another for chatting with friends, some more may be for studies and business development.
Your mobile messaging app for startup should combine functions of different messengers and match various purposes, or it might make a step up and bring an originally new solution to the market. In a constantly changing world, there is always a place for new creative ideas!
However, as soon as you have an idea, you also have a question how to make a chat app and avoid development pitfalls. Let's see into a process a bit.
How To Build A Messaging App Step by Step?
Discovery phase
To create messenger app and not mess up completely, you should follow the common process of a mobile app development. The first stage of which is discovery. Stfalcon always starts its projects from market research: who the current players are, what they offer, what products exist and what features are implemented, which user pains they relieve. Then you should understand the users as well: what they seek in the solutions they use, what they value most, what pains they still have and what you can offer to beat competitors. When all the questions are answered and the client's requirements are taken into account, we create the general concept of the product-to-be.
Design
The concept approved by the customer; we move on to design stage. To make an instant messaging app really instant you should craft an intuitive UI, without sacrificing functionality. With such a severe competition, all the slightest details should be considered and polished at this stage. We also agree the design of any product with the customer.
Backend
The business logic of any application is wrapped up in an external server, which is an essential medium an app turns to. The server centralizes the logic of the solution and serves as a mediator which stores and transmits messages. We traditionally use PHP Symfony for backend development to make its work smooth.
Mobile App Development
Finally, we proceed to the solution itself and create iphone text messaging app or Android, or both, depending on the task. As a rule, Stfalcon developers would choose Kotlin make a messenger app for android or turn to Swift for iOS application.
Technical Implementation
Summarizing all the above we can conclude that to make a chat program, the following key features should be implemented in it:
Registration
Since the sign up is usually realized via smartphone, it's reasonable to make it through using a mobile phone number, with an SMS for confirmation. Then a special library may be used. Social Media authorization is also an option.
Real-Time Events
To notify a user about receiving a new message, friend request, statuses updates in real time push notifications and WebSocket protocol are mostly used. To make a chat application for corporate usage on our client's request we also used
Mobile database Realm
Library DataBinding
RESTful API
Library Retrofit 2.0
Firebase Cloud Messaging.
Files and images sharing
At present to make a texting app is not enough to gain the audience, users share photos, videos, files and links. We have developed a library to implement the necessary algorithms for the purpose.
Voice messages
Modern life is dynamic the option to record a voice message is already a must for the apps of such kind. It should be played in the chat window, and have a pause and rewind features. Fortunately a standard set of OS functions can help to implement it.
Voice calls
You may postpone this feature implementation, since it's rather complex and will come to you at cost. PJSIP library, providing multimedia communication, can be used for VoIP functionality.
Our Experience
Stfalcon has experience with messenger app development, but we have created the open source library ChatKit - a set of UI elements, for the simple realization of moderately complex chats. It contains users' dialog list, message thread, and message field and is designed for easy implementation of chat representation logic.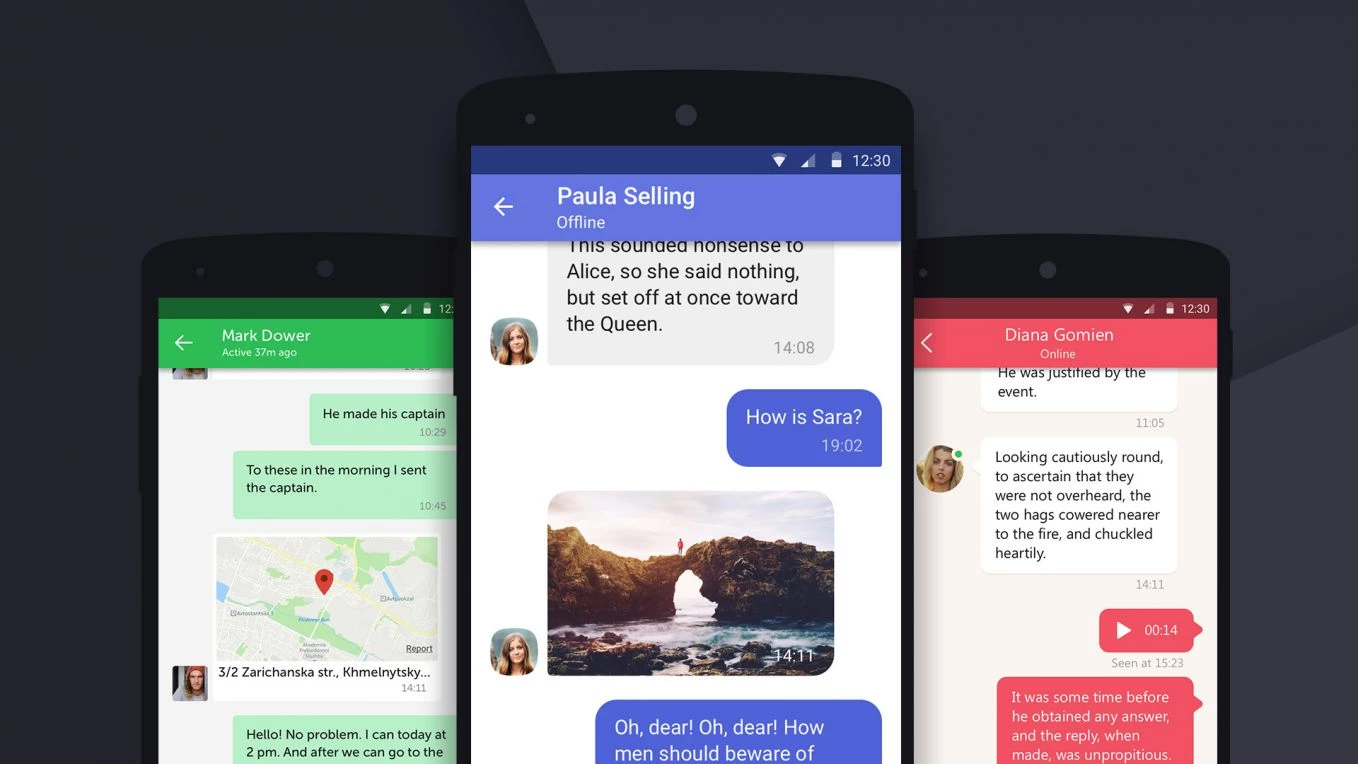 Library of UI elements for easy chats implementation
Besides, a few years ago our company has developed a Thismo messenger with real-time events, like WhatsApp, but for corporate users, like Slack.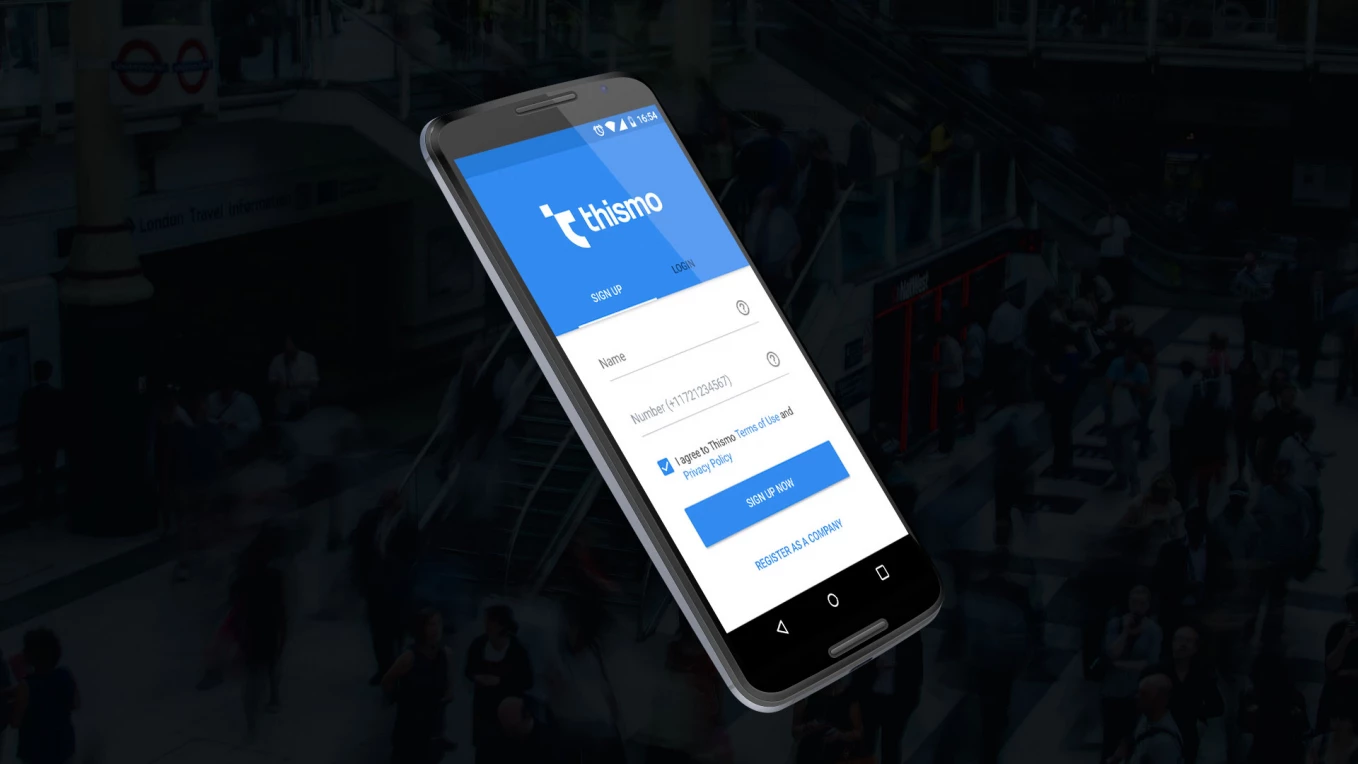 Mobile messenger for business
Final Words
The messaging app market holds untapped potential for novel features and user experiences that can deeply engage clients.
To embark on this journey, you can begin by examining the products of industry leaders such as WhatsApp, Facebook, Slack, and Telegram. Should you choose to collaborate with the Stfalcon team, we will guide you through the project development process. Together, we will define the app's functionality in alignment with your objectives and provide a preliminary estimate of project costs and timelines. By the conclusion of this process, you will have a well-defined roadmap for the development of your distinctive messaging application.
We have strong experience in creating mobile apps of medium and enterprise level. Need MVP development, iOS and Android apps or prototyping? Check out our portfolio and make an order today!
Don't miss the opportunity to explore the harnessing power of innovation in the messaging app market. Download our whitepaper "7 Recipes on How to Get a Startup Idea" today and embark on your journey to envision and create messaging solutions that leave a lasting impression on clients. Your path to entrepreneurial success begins here.