Mobile Messenger apps market grows extremely. The number of mobile phone messaging apps users in 2017 goes to 1.82 Billion worldwide, according to&nbspthe forecast, this mark will rise to 2,48 Billion in 2021. Is there a place for your messaging startup and what functions should a messenger include to become popular in a highly competitive field?
Since the extreme growth of mobile apps market and a number of smartphones, low-cost or free instant messaging apps have become a cheap alternative to messaging via SMS or MMS. Mostly all messenger apps offer a wide range of opportunities for users, such as group chats, photos exchange as well as stickers or emoticons, even video and audio sharing.
Trends of mobile messenger apps global market — Asian products are snapping at its heels
Top rated messengers by downloads in the first half of 2017 are WhatsApp and Facebook messenger app. Despite those two, messaging market differ greatly, with the great part of the Asian mobile messenger app market (continuously expanding local apps, such as WeChat, LINE, Hike and KakaoTalk are competing for leadership).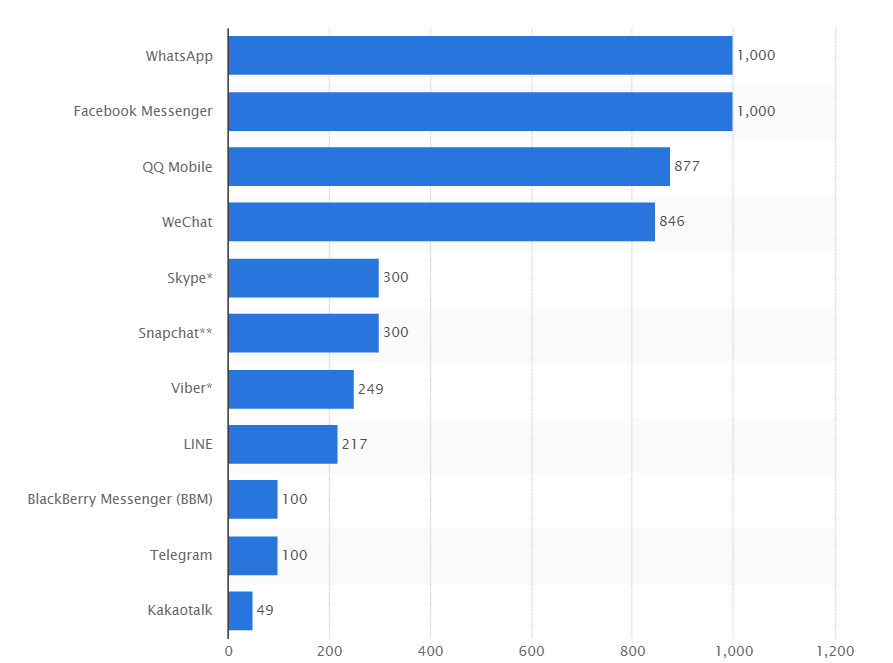 Most popular mobile messaging apps worldwide as of January 2017, based on number of monthly active users (in millions)
If you want your future messenger to become a successful startup, you should consider what opportunities already provide to users giants of messaging industry. You might also be interested in 10 tips on getting real with your startup ideas.
WhatsApp vs Facebook messenger — competitors & partners

In 2014 the social media giant Facebook acquired WhatsApp for $19 billion and definitely doesn't regret it. WhatsApp messenger audience is more than 1.3 billion monthly active users worldwide. Despite, FB messenger and WhatsApp have quite similar interfaces and number of functions, for now, they are two most popular messengers in the world.
WhatsApp
Only in the United States, WhatsApp gained 18.8 million monthly active users in 2016, but the most interesting thing — this messaging app is especially popular in markets outside the U.S. while facing strong competition from Asia-based social messengers, WhatsApp is particularly popular in emerging markets such as Brazil, Mexico and Turkey.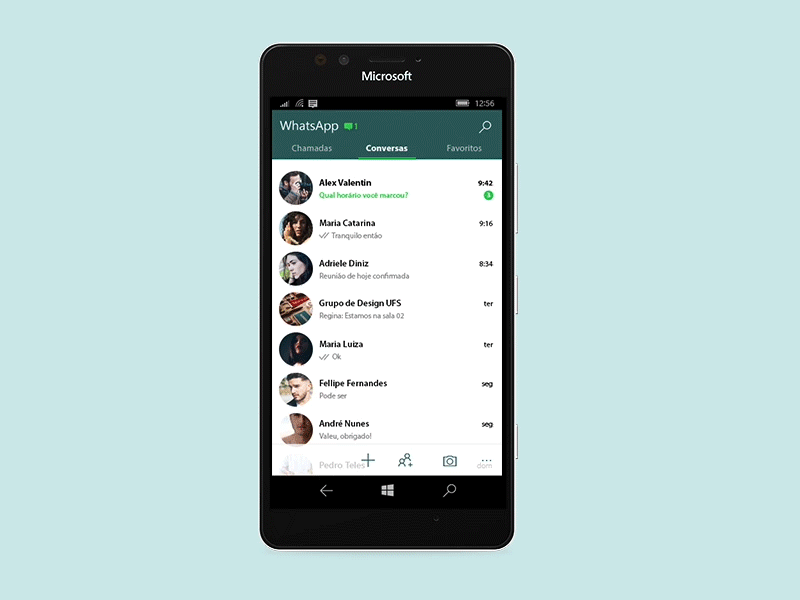 Since the WhatsApp messaging startup was released in 2009, the service has now become the world's most popular messenger, available for almost all mobile operating systems. Because of a low-cost subscription model, WhatsApp is a cheap alternative to carrier-billed SMS-messaging, especially it is profitable for international or group messaging. WhatsApp's popularity on mobile markets is also based on its key features:
Quick registration, using the number of mobile phones;
Real-Time Events;
Files and images sharing;
Recording the voice mail;
Voice calls.
Also, in WhatsApp, you can upload files from third-party apps like Google Drive, OneDrive and iCloud into a message. For iOS, it is integrated with Siri, that can send messages or make voice-calls on the app directly. How much does it cost to develop a messenger like WhatsApp you may find here.
Facebook messenger
Initially released in 2011, Facebook Messenger, an app dedicated purely to chatting, is equally famous as Whatsapp when it comes to messaging. FB messenger has a clean and light interface, that is easy to use.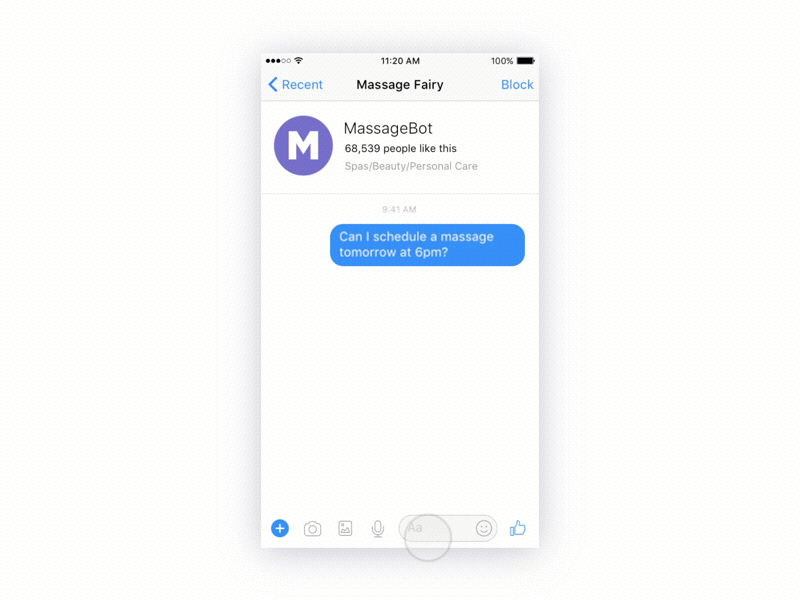 Besides text messaging, emoticons and photo sharing it is very rich in features:
Voice and video calling;
Use of In-Chat Reactions, GIFs and Stickers sharing;
Indeed a huge number of Bots;
Ability to add people to Messenger by clicking the Scan Code tab to scan the user's Profile code;
Rich number of games inside the messenger;
Function of setting Reminders for Plans;
With the recent update, user can also share his/her live location to friends.
FB Messenger ranks consistently as one of the most popular mobile apps in the United States — in 2016, it had more than 100 million unique monthly U.S.visitors. The messenger imports Facebook's contact and is easy to use both on a desktop computer and mobile devices. Most popular FB messenger activities: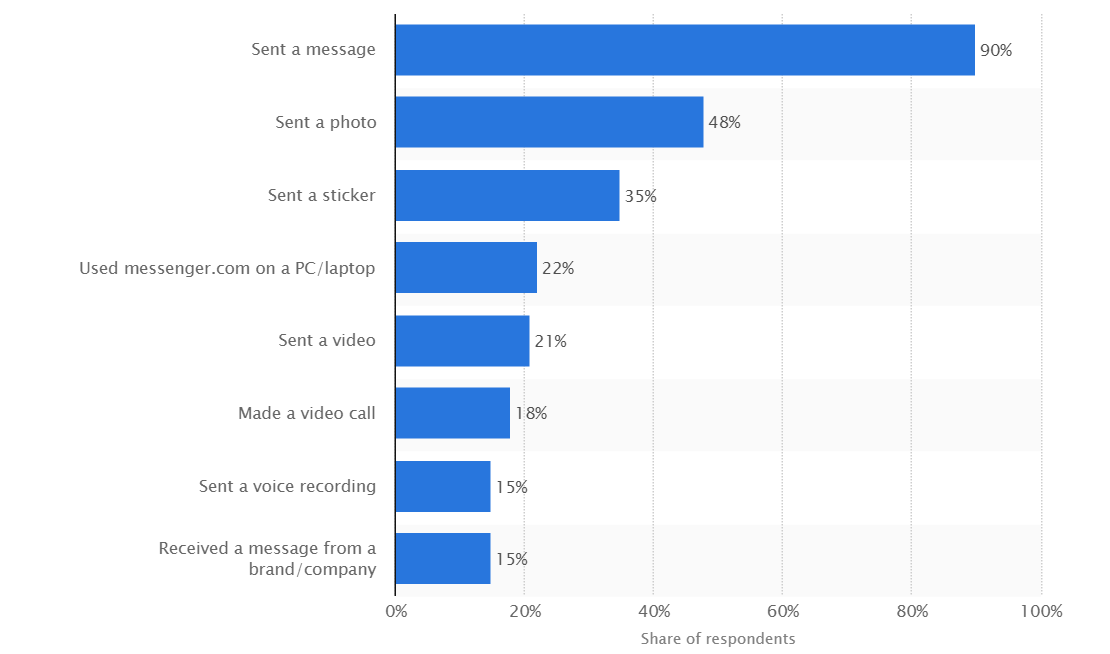 Slack — a rising star of corporate communications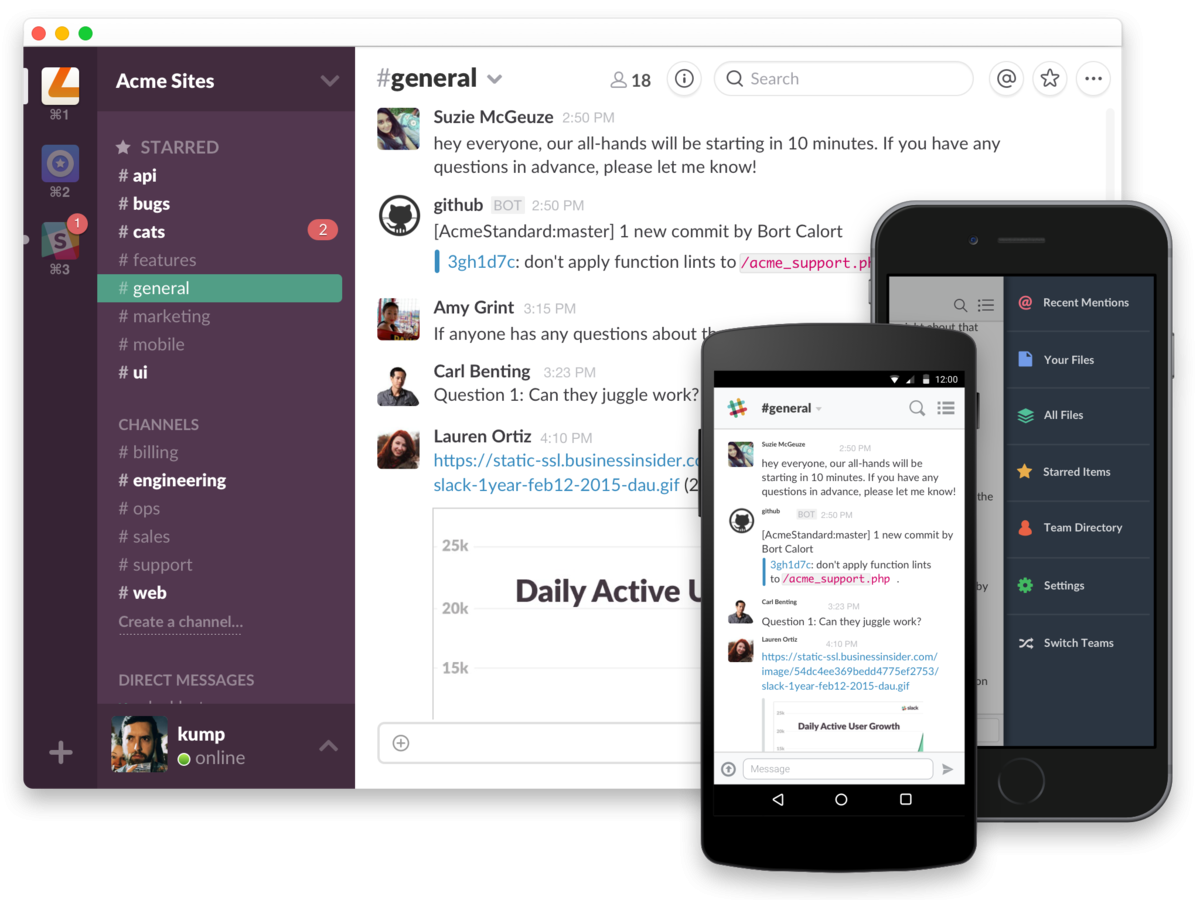 Workplace chat programs become more and more popular. Since Slack was founded in late 2013, it has become one of the top corporate messengers, boasting 5 million active users in February,17. One-third of respondents said that after adopting Slack their team productivity has increased by 20 to 40 percent.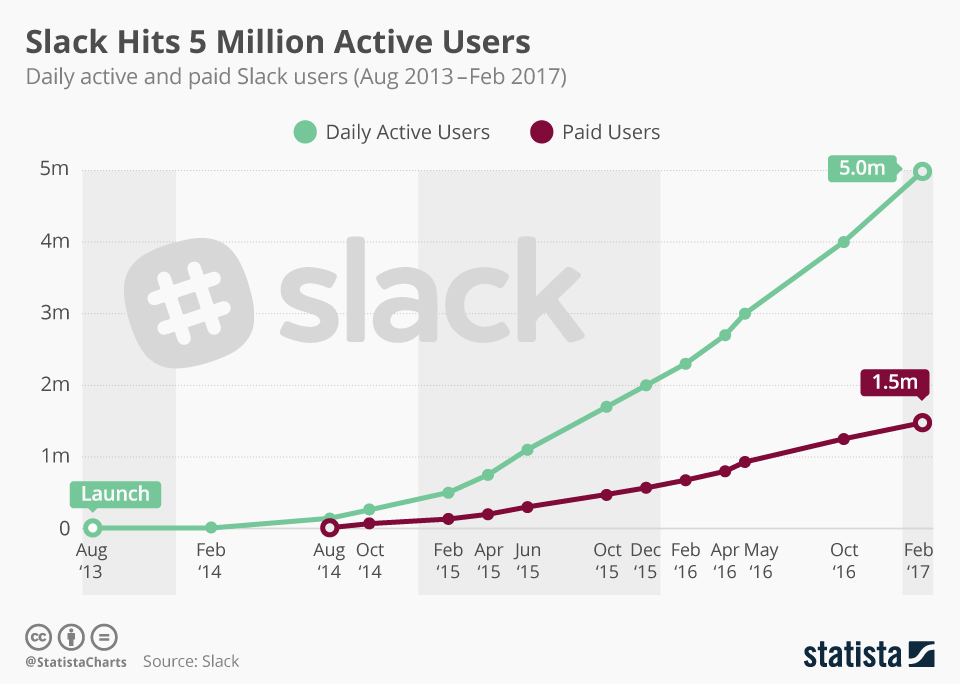 Despite that, users can private message each other, Slack has a wide range of functions for interacting and entertaining:
The ability to create many different channels for specialized conversations;
The Slackbot, that works like a virtual notepad for jot down ideas you want to keep an eye on;
Messages can be searched by keyword, also users can set up alerts to stay on top of conversation by keyword as well;
Integrations with third-party apps like Asana, Dropbox, and Google Hangouts, help pull information from different sources;
Slack is integrated with Giphy (the app for searching GIFs from the web), user access it by simply typing " /giphy" and a keyword like «Hello world!»;
The minus of Slack is that it doesn't keep messages story for long period. But, cencearning the dynamics, users don't really mind it.
SnapChat — designing fleeting reality of next generation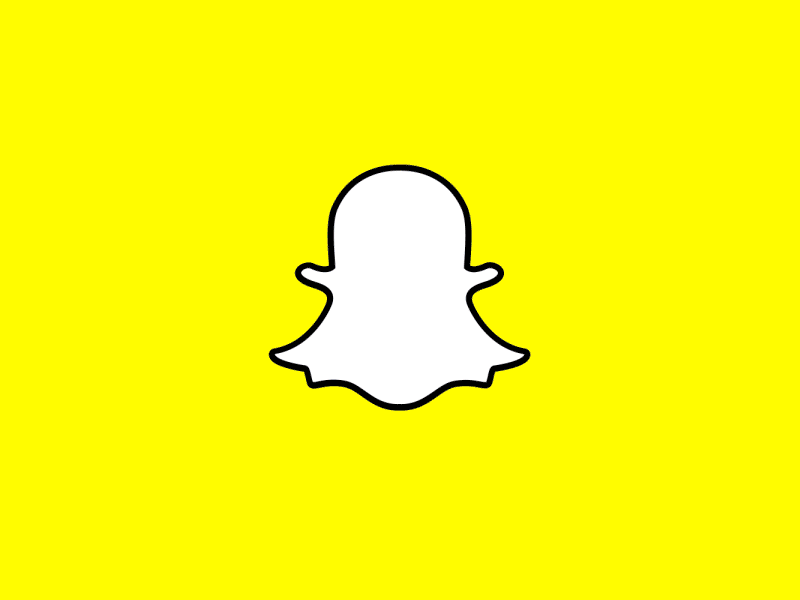 According to U.S. teenagers, in spring 2017 Snapchat was the most important messaging app of their generation. Appealing to young auditory, almost a third of U.S. adult users of SnapChat are from 18 to 24 years. In few words, SnapChat allows sharing photos and videos (referred to as a Snap) for a time, that is fixed by a sender. Also, user can put on graphics, doodles and captions over the multimedia. More details about SnapChat features:
Setting time limits: any sent materials will self-destruct after a limited amount of time — mentioned, that users can be sure, that their files will not get into the public access;
Screen capturing information: if a user tries to make a screenshot of a snap, the sender will be informed about it, and might not send files to that person anymore;
Ability to face swap with a photo from the phone's photo gallery;
Lenses — ability to scan the face and put various masks on it, while taking photo or video;
SnapCode — an avatar, that looks like a QR-code is unique for any user. Just make a screen of a SnapCode and send it to user, so he could add you to his friends without typing a nickname;
Summer,17 SnapChat has added a new feature which shows to friends where user is — and what he/she is up to.
Originally launched in 2011, Snapchat has become one of the most popular social messaging and photo sharing apps worldwide. The number of daily active Snapchat users increased to 150 million worldwide in June 2016.
Is there a place for new messenger on play market?
If you are planning to build a messaging app, you should be ready to face high competition on apps market. Learning from top-rated messaging companies, we may conclude, that the most important thing — is to find your target auditory and satisfy its demands, by providing rich functionality. For example, Slack has occupied his market, by giving solutions for corporate needs. SnapChat made a step up and gathered youth auditory, that lives in a digital age and can't imagine their life without multimedia.
WhatsApp And FB messenger shows, that two products with similar functionality, and even with a similar interface can successfully coexist on the market. How can it be possible? Just think over, how much messengers are there on your mobile phone. Few years ago our company has developed a messenger Thismo with real-time events, like in WhatsApp, but for corporate users, like Slack. Your messaging startup may combine functions of different messengers and match various purposes, or it might make a step up and bring originally new solution for the market of messaging apps. In constantly changing world there is always a place for new creative ideas!
We have strong experience in creating mobile apps of medium and enterprise level. Need MVP development, iOS and Android apps or prototyping? Check out our portfolio and make an order today!